Derby — In less than half the time it normally takes, Colby Liston is running again.
The former Derby High School athlete competed in the University of Central Oklahoma Endeavor Games in Edmond, Okla., earlier this month, nine months after an auto accident in Lawrence claimed both of his legs from above the knee, The Wichita Eagle reported.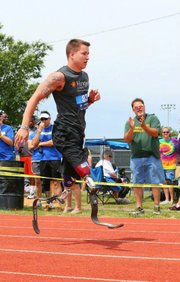 Competing on carbon-fiber running blades, Liston ran the 100-, 200- and 400-meter races at the Games, a national multi-sport competition for athletes with disabilities that drew more than 550 competitors. He won his age group in the 200 and 400.
Typically it takes about two years for double amputees to get out on a track and run, said Chad Simpson, clinic manager and certified prosthetist at the Hanger Clinic in Oklahoma City, which provided Liston's prosthetic legs and helped him learn how to use them.
"Any individual who is missing both legs above the knees, to get back up and walking in that nine-month period is pretty astonishing," Simpson said. "And to move into a competitive situation on running legs is extraordinary."
"To me his progress has been exceptional. He has blown above the traditional protocols we've put in place."
Liston said he decided to enter the Endeavor Games after hearing about them months ago. He has been training four days a week on a track and at the Derby Recreation Center, where he works as a fitness specialist.
"I think I had it in my head it was basically going to happen," Liston said. "There was never a part of me that said maybe I'm not going to be able to do it."
"He is a very driven young man," Simpson aid.
Liston, a 2012 graduate of Derby High, had just started his freshman year at Kansas University in August when he was struck and pinned between vehicles as he and some friends were trying to climb into the back of a friend's SUV that had stopped on a Lawrence street. Both legs were crushed.
The standout football and track athlete at Derby High said he never felt down and soon was tweeting well-wishers that he hadn't suffered anything he couldn't overcome.
Returning to competitive sports — eventually at a high level — quickly became a goal
A few months ago at the clinic in Oklahoma City, somebody asked Liston if he wanted to try on a pair of running blades. He figured, why not?
"I put them on, and I was running up and down the hallway, and he ended up just shipping me home with them," Liston said.
The running blades with their L-shaped feet provide spring, and there is a period of time when both feet are off the ground.
"It was hard at first. I fell pretty hard the first couple of times. It just takes practice," Liston said.
Stopping was the hardest part.
"You just have to get your feet out wide and make sure the knee doesn't bend, because when the knee bends, that's when you fall. The knee collapses underneath you," Liston said.
For normal wear, Liston uses a set of prosthetics controlled by a computer that reads his weight and movements 100 times per second to operate the hydraulic knees. Liston has adorned his prosthetics with red and blue Jayhawk logos.
He will return to KU in the fall to continue his major in petroleum engineering. He took a few online courses this year.
The driver who struck him, a 22-year-old KU student, was charged with a second-offense DUI and possession of marijuana, both misdemeanors, as well as following a vehicle too closely. A jury trial is scheduled for Sept. 4.
After Liston's family and supporters objected to the lack of severity in the charges, the Douglas County district attorney issued a statement saying he couldn't charge the driver with a more serious offense. He cited a Kansas Supreme Court ruling that said more evidence beyond driving under the influence was needed to charge a driver with reckless aggravated battery.
A new law passed by the Legislature in March will allow prosecutors to charge drunken drivers with aggravated battery in injury accidents starting July 1.
Liston said he has no idea what happened to the driver.
"I don't even care," he said.
Derby rallied to Liston's support after the accident and launched a host of fundraising activities. Liston said he also gained support from other amputees he met at the clinic and on Facebook.
He has been inspired by other above-knee double amputees.
"Some of the things they can do ... There's a kid who runs half-marathons for fun. There's literally nobody else that does that," Liston said.
So last weekend was just a start.
"For being nine months after the accident, I did good," Liston said, "but there's always room for improvement. I'll never be satisfied."
Copyright 2018 The Lawrence Journal-World. All rights reserved. This material may not be published, broadcast, rewritten or redistributed. We strive to uphold our values for every story published.