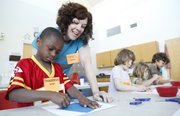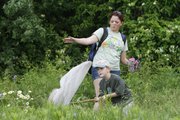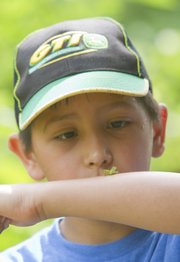 School's out for the summer, and while some students might have the idea that they'll spend the next few months lounging by the pool or playing video games all day, parents are using the free time as a way to keep their children active through day camps and classes offered by the city and the Lawrence Arts Center.
"If you keep their mind active, whether it be science or math, they become better students because they continued that thought process," Roger Steinbrock, the city's parks and recreation marketing supervisor, said. "It's important to engage them throughout the summer, whether it be cognitive or physical fitness."
Camps that are offered in Lawrence include tech classes, where children can build their own robots or website, theater and visual arts classes, sports camps and nature classes where kids can learn about animals and the outdoors.
Lawrence resident Matt Burke's 9-year-old son has attended classes through both organizations. He said he makes an effort to use the summertime as a learning opportunity and to create habits for when his son is older and can choose what to do with his free time.
"I want him to think of summer as a time when he can still be productive," Burke said.
Lawrence Arts Center
The Lawrence Arts Center, 940 New Hampshire St., has a variety of theater, dance and fine arts classes offered for K-12 students throughout the summer. There are full-day week-long classes for elementary children; half-day week-long art institutes for middle and high school students; two-week art institute intensives for high school students wanting to build their portfolios; three-week summer youth theater camp; and other dance institutes.
Arts Space, the camp for children in first through fifth grade, is a science and art integrated program with different themes each week to help keep children in engaged in the activities.
Fun themes like Mythbusters and School of Rock teach children about different art mediums like music and sculpture, and every Tuesday, a science teacher talks to the students about how science relates to that art and theme. Because the theme changes every week, students can attend one camp or multiple camps and still learn something new.
Burke's son attended the Spy Kids themed camp where the children learned to decode mysteries in art and received a science lesson in chemistry and camouflage. Burke said the camps at the Arts Center came highly recommended to him by friends, and the convenience of an all-day camp made it a good choice.
"We (my wife and I) needed an option for activities because we take the summer to do professional development," Burke said.
Higginson said there are a variety of classes for middle and high school-aged students to choose from, too. Like Arts Space, the Arts Institutes have themes, but they are based on a specific medium of art. Four or five mediums ranging from darkroom photography to improv instruction are offered during each session.
The Arts Institute Intensives allow students to study more specific techniques for either architecture and landscape drawing or drawing alternatives, and are intended to help students create portfolio materials to use when applying for schools.
"They're really things that they can study in-depth that they can't get at their school," Higginson said.
Higginson said another popular option at the center is the summer youth theater program, which is a three-week camp culminating in a show performed by the children at the end of the session. This summer the kids are putting on "Pirates of Penzance," "Macbeth," "The Complete History of Kansas in Sixty Minutes" and "Hairspray."
"It's really an important investment for kids to put that time in the summer to broaden education, not to mention the self-satisfaction of gaining those skills," Higginson said.
Lawrence Parks and Recreation
The city of Lawrence has a variety of camps to meet the interests of almost any child. Although there are the typical sports camps, there are also computer and technology camps, water camps, rocket camp, traditional playground camps and nature camps.
Steinbrock said the nature camps, which are hosted by Prairie Park Nature Center, are some of the most popular camps the city offers. The children get the chance to learn about outdoor survival, habitats, animal identification and plants. Some weeks there is the opportunity to handle live animals, and for older students, the chance to experience what it is like to be a naturalist by working as a nature center junior staff member.
Burke's son participated in the camps last summer. He liked that it had structure and learning, but his son was still able to spend time outdoors.
Because there are so many options for parents to choose from when deciding which camps to enroll their child in, Steinbrock said it is important to talk to the child about their likes and dislikes and what they want to accomplish this summer. Ask them if they are having fun during a certain activity, but pay attention to their behavior and if they're excited about it, too.
"I think parents have a pretty good idea of what their kids can tolerate and can't tolerate," Steinbrock said.
Enrollment for classes offered through the city and the arts center is currently open for most camps and classes. For a complete list of classes offered, dates and prices, visit the city of Lawrence Park and Recreation Department's website and the Lawrence Arts Center's website.
Copyright 2018 The Lawrence Journal-World. All rights reserved. This material may not be published, broadcast, rewritten or redistributed. We strive to uphold our values for every story published.