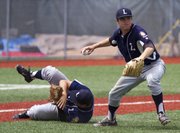 The Lawrence Raiders followed up an 8-1 youth baseball loss to the Midwest Nationals on Sunday with an improved offensive effort in Game Two.
All it took was a little patience.
Lawrence's pitch selection was key in the nightcap, as the Raiders drew eight walks in a 9-1 run-rule victory at Lawrence High.
"That just shows disciplined hitting. I feel like that's something we have on this team," Lawrence's Kieran Severa said. "We have a lot of very disciplined hitters that have their pitch that they want to hit, and if they don't get it, they're going to take it."
Four of those walks ended up scoring runs, and a pair of Lawrence players also came through with clutch hits in a five-run fourth inning.
The first was from third baseman Drew Green, who lined a single to center to score Severa and Shane Willoughby to make the score 6-0.
With two outs and the bases full, Adam Rea stepped to the plate looking for a pitch belt-high.
"It was right there, so I put a good swing on it," Rea said. "I didn't think I hit it as hard as I did."
The drive to left-center split the gap between outfielders Cole Macchi and Will Blount for a three-run double that made it 9-0.
Ryan Cantrell held the lead from there. The reliever allowed one run in his two innings of relief.
Ryan Stagg picked up the win for Lawrence after allowing no runs and just one hit in his three innings.
Stagg and Cantrell combined for four walks — just half of what the Raiders drew against the Springfield, Mo.-based Nationals.
"Usually people who get the most walks win the game, because that's free bases. Free bases are useful in any situation," Rea said. "... It really helped us turn around our offense."
That same offense struggled in Game One against the Nationals' starter Beavers.
The left-hander — mixing up his fastball with a sharp breaking ball — allowed just one run in six innings, walking two with one strikeout.
"It was definitely a good pitcher, but I felt like we didn't play as we should have," Severa said. "We definitely needed to hit better than we did that game. With the team that we have, we should never be held to one or fewer runs."
Lawrence also had to play most of the doubleheader without its customary leadoff hitter. Right fielder C.J. Stuever exited the first game in the top of the second after running into the center fielder Severa on a catch in the right-center alley.
After lying on the turf for a few minutes, Stuever walked off the field with knee and rib injuries. Raiders assistant J.D. Prochaska — filling in for coach Brad Romme, who was sick — said he didn't believe Stuever's injuries were severe.
The Raiders finished their home weekend round-robin with a 3-2 record.
Midwest Nats. 022 001 3 — 8 7 1
Lawrence Raiders 100 000 0 — 1 8 1
W — Brandon Beavers. L — Adam Rea.
2B — Sam Baxter, MN; Anthony Miele, Lawrence; Kieran Severa, Lawrence.
Raiders highlights — Kieran Severa 2-for-4, 2B; Jacob Seratte 2-for-3; Drew Green 2-for-4; Anthony Miele 1-for-3, 2B, BB, R; Sam Hearnen 1-for-2, BB.
Lawrence Raiders 004 50 — 9 5 0
Midwest Nats. 000 01 — 1 2 1
W — Ryan Stagg. L — Landen O'Dell.
2B — Adam Rea, Lawrence; Andrew Kendrick, MN.
Raiders highlights — Adam Rea 1-for-3, 2B, 3 RBI; Drew Green 1-for-2, BB, 2 RBI, R; Lee McMahon 1-for-1, BB, HBP, 2R; Kieran Severa 0-for-1, 3 BB, 2R; Ryan Stagg 3 IP, H, 0R, 3BB, K.
Copyright 2018 The Lawrence Journal-World. All rights reserved. This material may not be published, broadcast, rewritten or redistributed. We strive to uphold our values for every story published.