Because shoes are an essential part of an outfit, I thought I would talk about some of my must-haves for summer.
There are endless styles of warm-weather shoes, so it can be kind of daunting to pick out the best and most practical style. When I'm shopping for new summer sandals, I always pull out my packed-away shoes from last summer, and see what I want to sell to second-hand stores and what I want to keep. I always like to have a simple flat sandal, a wedge, a heeled, strappy sandal and a comfortable flat.
When I looked through my collection from last year, all I really needed was a wedge and a heeled, strappy sandal. Check out my on-trend styles for this summer so you can evaluate what you already have, and what new styles you'll want to get your hands on.
Fabulous flat sandals
There's nothing better than a simple flat sandal to complete your casual and comfortable summer look.
Again, look and see what you already have because my all-time favorite flat sandal is from Old Navy from a couple of years ago. They have a gold woven detail that keeps them right on trend for summer.
Anything from beading, jewels, metallic, neutrals or strappy styles would be stylish options this season. Zara.com and Shopbop.com have trendy styles, but you could definitely find cheaper versions at Target or TJ Maxx.
Wedges
A wedge sandal will always be in style; however, designers seem to reinvent them each season.
Wooded wedges are a popular style that I have been looking for, but I have yet to make a purchase. Diane Von Furstenberg has an amazing Opal wedge that I have been obsessing over, but I'm still deciding if I want to make that investment. But I think the wooden wedge style is a classic look that you could wear for years to come.
Espadrilles are a different type of wedge where the wedge is covered in a woven rope material. This style is a little more casual, but they keep coming back season after season. You can find them just about anywhere. Wedges are perfect for summer dresses or shorts if you want to add some comfortable height to your look.
Heeled and strappy
Every girl should have a pair of heeled, strappy sandals for those dressy summer events.
Right now the ankle strap is a huge trend and, in my opinion, this style can give any outfit an instant polished look.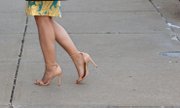 I like to keep things somewhat simple, so I went to Zara.com for my ankle strappy sandals. A nude and a black color are safe options that you can always incorporate into your outfits. Because this is hands down my favorite style, I bought both colors. I love to wear these with dresses, or to dress up a pair of boyfriend or skinny jeans.
If you're looking for a pair of designer heels, which typically last longer because of their higher quality, I would suggest signing up for Gilt.com or Hautelook.com. These are member-only designer retailers with significant discounts each day.
Flats
I'm a huge fan of flats because they are year-round shoes that come in so many different materials, patterns and embellishments, not to mention their convenient comfort.
I recently took a trip to Gap on Mass St., and they have an assortment of stylish flats on sale. They also have new affordable styles that would brighten up your summer looks.
Skinny jeans and a colorful top would be the perfect outfit for a pair of comfortable flats. I like to try to match the color of my flats to one specific color in my outfit. For example, if you're wearing a floral blouse or top, pick out one color from the pattern and find a pair of flats to match that color.
This is an easy tip if you want to add colorful flats to your wardrobe. The best part is that they don't have to match perfectly, and there you have your colorful yet trendy summer look!
Copyright 2018 The Lawrence Journal-World. All rights reserved. This material may not be published, broadcast, rewritten or redistributed. We strive to uphold our values for every story published.