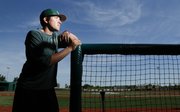 Fundraiser
Friends of Nolan and Danyel Deitrich organized a 5K run/walk to help the couple. It begins at 9 a.m., Aug. 10 at Jones Park, in Carbondale — 600 Hug Drive. To register, contact Emily Roberts at (785) 220-7893 or Courtney Thompson at (913) 271-1698 or eroberts24@yahoo.com.
-->
-->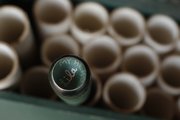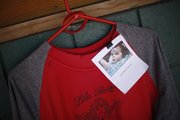 Nolan Deitrich knew Sunday would be tough, with emotions fluctuating everywhere from joyous to downright painful.
It was Father's Day — the second one that held deep meaning to him since the birth of his daughter, Lila, on July 23, 2011. The bliss would come in the moments he and his wife, Danyel, spent thinking about their first child. But those same memories would bring tears, because, unlike last year, the proud father didn't get to hold his precious daughter in his arms.
After nearly 19 months of uncertain health, seemingly perpetual hospital trips and around-the-clock care from her adoring parents, Lila Belle Deitrich died on March 17, when she could no longer fight off the respiratory syncytial virus, or RSV, she had contracted.
Immersed in grief over his young family's loss, Deitrich, a 30-year-old assistant baseball coach at Free State High, soon found an outlet for his sorrow in the game he grew up playing.
'Dealing with uncertainty'
Danyel's pregnancy moved along normally until two months before her due date, when she began to experience high blood pressure. She had to undergo a C-section five weeks ahead of schedule, and when Lila was born, her father said, she seemed relatively healthy.
"She came out with this long, curly hair, so she already had a little character, and she had long eyelashes, blue eyes," Deitrich said. "She was a real beautiful little baby. People, the first time seeing her, would compare her to a porcelain doll, because she had these puffy cheeks and real light skin."
Still, doctors determined Lila had something genetically wrong with her, and she spent close to three weeks in a neonatal intensive care unit until she could perform a sucking action that would allow her to eat.
"That was definitely life-changing," Deitrich said, "and basically set up everything for the next 19 months of us dealing with uncertainty and loving her no matter what."
During the first six months of her life, Lila's heart rate would drop abnormally low, and the cause remained unknown until it was discovered she suffered from epilepsy. She had seizures, and her tiny air passage locked up.
As it turned out, there was more to it.
Lila turned blue in the middle of her most intense seizures. At Children's Mercy Hospital in Kansas City, Mo., Lila was diagnosed with a rare genetic abnormality in her blood cells. It led not only to seizures but also a lack of muscle growth. As a result, her weak neck couldn't hold up her head.
The next few months were dedicated to figuring out Lila's medications.
In 2012, from mid-March to early April, her parents basically lived at Children's Mercy with Lila. Nolan Deitrich only left to go to Free State baseball practices and games. Then he drove back to Lila, and Danyel could leave for work.
Eventually, the parents were presented with a number of medications for Lila. Those came with side effects for her swallowing and feeding.
The parents became Lila's nurses. They used a gastrostomy tube six times a day to pump food directly into her stomach. They helped her cough and used a vacuum-like device to rid her of mucus. They implemented a stringent asthma plan, to open her lungs and airway.
In spite of it all, bouts of bronchitis and pneumonia and subsequent hospital trips followed. In early March of 2013, some congestion brought on another hospital stay, and her parents learned March 13 Lila had RSV.
Four days later, she died.
"Her lungs, with all her previous sickness and visits, they just failed on her," Nolan Deitrich said. "She just didn't have the strength."
Healing on the diamond
Deitrich, like his wife and the rest of their extended families, needed a distraction from the heartache. For him, baseball was the obvious choice.
A second baseman and shortstop in his youth, Deitrich played nearby at Santa Fe Trail High in Carbondale before graduating in 2001 and continuing his career at Cloud County Community College and Washburn University.
Upon using up his eligibility, he went into coaching, assisting at Washburn, Fort Hays State and Ottawa University before joining Mike Hill's staff at Free State in 2012.
It was spring break at FSHS the week after Lila died, and that marked the start of the Firebirds' season. Deitrich called Hill on March 17 to inform him of Lila's death, and the coach shared the news with the players.
Said pitcher Dane McCullough: "It was one of the worst things that could have happened. He's just as much a part of the team as a player would be. We were all really sad for him and his wife and the rest of his family."
The players knew when the assistant coach returned they wanted to support him and give him a place to escape, even if it was for just few hours a day. The next time Deitrich stepped on the diamond and saw the team, the Firebirds' greetings seemed fairly normal and upbeat. In a few instances, Deitrich heard some voices crack, and he tried to make them feel comfortable so they could get back into game mode.
"The best thing about 'em was I could see in some of the faces they were taking it to heart," Deitrich said, getting choked up. "But they were kids. It was perfect, 'cause they still acted like kids."
'You felt Lila's love'
A couple of traditions were born March 20, during Free State's season-opening sweep of Warrensburg, Mo. The first came courtesy of Lila's grandparents, who had a red and gray baseball shirt made, with Lila Belle printed across the chest, above an illustration of a child-like angel. Deitrich hung the memento in the FSHS dugout, where it would appear throughout the spring.
The other materialized after Hill gave his postgame talk to the team.
"I don't know if I started it or one of the kids started it," Deitrich recalled, "but we started a hug line."
From that point on, every game day ended in the same fashion.
"You kind of felt Lila's love," Deitrich said, tears welling in his eyes. "So that was pretty cool."
Baseball began to assist the healing process for a broken father.
Free State catcher Lee McMahon said the players knew Lila remained in Deitrich's thoughts; he would go down the right-field line before every game and say a prayer. The Firebirds wanted to do all they could to help him deal with the emotional aftermath of a personal tragedy, even if it was just an extra pat on the back.
"Baseball was his release," McMahon said. "He came out to the field to get his mind off of that."
Still, Deitrich would notice the little things players did to honor Lila: a phrase or message on the board in the locker room, her initials and notes on the bottom brims of their hats.
Said Hill: "What the kids did was rally around him, sort of quietly, but in an important way."
Deitrich, who works as a paraprofessional at FSHS, described the spring season as wonderful, thanks to the school's staff, the players and their parents and the booster club. The Free State athletics family gave Deitrich and his loved ones not just emotional support, but they contributed to a memorial stone for Lila's burial plot.
All the while, the Firebirds kept winning. They started 11-0, won a Sunflower League championship and finished 18-4. For Deitrich, Lila, whose name he wrote on his FSHS cap and the bat he used in warm-ups, played a part in that success.
"She was our good-luck charm," he said. "There were some moments when we played some close games. I think we got a little extra help, or had some faith and some belief."
Remembering Lila
On Father's Day morning, the couple went to Mt. Calvary Cemetery to visit Lila's grave. They remembered how her ailments didn't keep her from being playful or having a personality. Lila's eyes, her father recalled, spoke to them.
"You always knew when she was happy," Deitrich said. "She would always surprise you with her smile."
They thought about those times as they sat by her plot, surrounded by various colorful tributes. The parents read her some Dr. Seuss books and played music that reminded them of Lila, such as Coldplay's "Paradise" and "King and Lionheart" by Of Monsters and Men.
There will be days, such as this holiday, when Lila's memory will consume the Deitrich household. The extended family already has declared March 17 St. Lila's Day, instead of St. Patrick's Day. Deitrich said he, Danyel and those close to them will celebrate with purple apparel and the like to support epilepsy awareness.
And every day, Lila's dad knows she will continue to inspire him.
"It's weird," he said, "being sad and happy."
Copyright 2018 The Lawrence Journal-World. All rights reserved. This material may not be published, broadcast, rewritten or redistributed. We strive to uphold our values for every story published.