There are a lot of words that could describe Theatre Lawrence's new $7.2 million building at 4660 Bauer Farm Drive: beautiful, impressive, exciting. But there's one that does it best.
Big.
"You could fit our entire offices from the old building into the coat-check area of this one," says Mary Doveton, Theatre Lawrence executive director.
Photo Gallery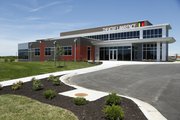 A look at the new Theatre Lawrence
An inside tour of the new Theatre Lawrence building
She can't stop beaming while giving a tour of the new facility, and who can blame her? For 28 years, Theatre Lawrence had to make do in a cramped, repurposed church at 15th and New Hampshire streets, squeezing large shows like "Disney's Beauty and the Beast," "Gypsy" and "Fiddler on the Roof" onto its tiny stage while cramming employees and volunteers into any space not occupied by a prop, a desk or a saw.
Now they've got breathing room and then some. The building has 35,000 square feet of space.
"It really opens up a lot of possibilities," Doveton says.
The bigger the better
The added space also enables more people to be involved. Theatre Lawrence's upcoming performance of "Ragtime" has a cast of over 50. There was never that many in a show at the old building.
"I think we had maybe 30 for 'Gypsy,'" Doveton says, "but we had to set up a tent out back for all the kids to hang out when they weren't onstage because there wasn't enough room inside."
That won't be a problem now. At the New Hampshire Street location, a common room for makeup and two dressing rooms smaller than a closet were all the cast had.
Now, there are dressing rooms large enough for 50 each and a green room with carpeting and comfortable furniture. A sound system pipes in what's happening on the stage, replacing the baby monitor from the old facility.
Set construction used to be challenging as well. Nearly everything had to be built onstage because there was no way to get large objects up the stairs from the basement, where the shop was.
Now, the scene shop is directly behind the stage, it's at least three times the size of the prior one and both a dock out back and a large entry to the stage enable pieces of almost any size to be built and moved.
"Plus, we'll be able to store set pieces backstage during performances, which was always difficult in the other building," Doveton says.
The new facility also features much larger storage rooms for props and costumesv.
But both audiences and performers praised the intimacy of the old building, where no seat was farther than 20 feet from the stage. The new facility preserves that feel.
"All the seats are no more than five feet farther away than they were in the old building," Doveton says. "We wanted to keep the design of the thrust stage so people could still feel like they were part of the action."
Behind the scenes
Performers and audiences weren't the only ones considered in the design of the new building. So were the technical volunteers. During the tour, Doveton walks upstairs above the performance area and shows a cable netting system that resembles a giant spider web spanning the entire theater. We're able to stand on it, with it giving only the slightest bit under our weight.
"We'll be able to adjust lights and rigging without having to go up on ladders now," she says. "The whole thing will be much safer for our volunteers."
A building the size of this one houses more than a performance space. Theatre Lawrence has dedicated 1,800 square feet to a new education wing. Once again, space for this was a problem in the old facility.
"We had to cap class sizes at 40 students," Doveton says. "We can take 60 or more now."
It isn't just the extra space in the classrooms. At the old building, the youth education programs had to be onstage and in the common area downstairs, which meant they had to be scheduled around set construction and other projects. Now, all that can happen simultaneously, so not only can Theatre Lawrence enroll more students but it also can offer more classes.
Other amenities include a 700-square-foot conference area that is available to rent for private functions, an expanded office space, which has room for the entire staff and a host of volunteers, three ticket windows to speed up getting seats at performances, a bigger bar and — a real improvement — large bathrooms on each floor.
'A community project'
But bigger has challenges, too. Some shows, such as the serious dramas traditionally presented in February, were lightly attended in the old building, which housed a little over half as many seats – 159 versus the new 298. Doveton demurs when asked if she's concerned about ticket sales.
"We're just going to see what happens," she says.
She does say that Theatre Lawrence has identified several cost-saving measures for its operations. By capping seating at under 300, they keep royalty rates for the shows at a much more manageable level.
"Once you get to 300 seats," she says, "the rates really start to go up."
A central location also reduces storage costs. Prior to building the new facility, Theatre Lawrence had costumes and large props and set pieces stored at several different locations — a bank basement, a warehouse in East Lawrence, even a giant oven at the Lawrence Airport.
"We were getting very generous rates," Doveton says, "but it still will save us money to have everything here."
Now that Theatre Lawrence is bigger, Doveton is betting it will be bigger for the community, too.
In addition to cost-savings, the new building will allow Theatre Lawrence to identify and capitalize on new revenue streams. Expanded class sizes will create more income for the youth education program. And Doveton reports the conference room has already been booked for several functions and that Theatre Lawrence has entered into a multi-year agreement with Eastlake Church to rent the stage for Sunday morning services.
"We're hoping to be more accessible to the community than ever before," Doveton says.
That was part of the reasoning behind both the city and the county contributing public funds to the project. Each gave $100,000 to the building fund.
"So many people have wanted to be a part of this," Doveton says. "The response from the community has been overwhelming. We want to give back."
Doveton estimates construction alone created about 200 jobs, and the theater used local contractors wherever possible.
"It's truly been a community project," she says.
Copyright 2018 The Lawrence Journal-World. All rights reserved. This material may not be published, broadcast, rewritten or redistributed. We strive to uphold our values for every story published.