Fatherhood takes a lot of work — that's true even when you have a supportive spouse and a healthy kid.
Now imagine being a homeless, single dad with a special-needs child.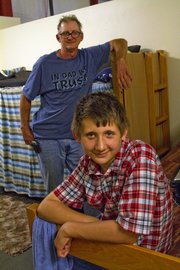 That's the situation Billy Mason finds himself in, trying to navigate the various systems that make up modern-day America: court, mental health, school, social services. And he does it on his own. How does he manage?
"One day at a time," the 52-year-old former warehouse employee said on a recent day at the Lawrence Community Shelter, his son Deryk Davison, 12, playing video games on the couch next to him. "I'm doing what I need to do on a daily basis and trying to get a job — though special-needs kids are a full-time job."
It's not easy, but Mason believes the result will be what's best for his son: a healthy living environment, a stable education, his medical conditions under control.
Mason is one of the many dads in Douglas County who have overcome challenges to be with their kids on Father's Day. While they have taken different paths to fatherhood and raise their children differently, they all hope for the same outcome: to be positive, loving role models for their sons and daughters.
A long road
Take Travis Gardner.
The attorney commutes to and from Lawrence every day, up to an hour and a half in each direction, to be able to support his 8-year-old daughter and be there for her as he splits custody with her mother.
He knows it's not simple for fathers. Practicing family law, he sees the barriers they often face in securing their parental rights. "Dads have to work a little harder in court," he said. "But dads who do work a little harder are on the same playing field as anyone else in a courtroom."
The 28-year-old knows hard work. He travels back and forth from Lee's Summit, Mo., to northeast Kansas four days a week, building a law practice in the midst of a tough economy for young attorneys, all as a single dad. He put himself through college and law school as a single father as well, having to commute even further, to Topeka.
Still, he doesn't complain. He often represents dads, who, unlike him, don't have cooperative baby's mothers or supportive families. He also grew up with a stable father figure.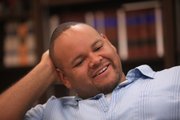 Damon Tucker, on the other hand, did not. Thankfully, his mom signed him up for Big Brothers Big Sisters, where he formed a relationship with a mentor in the program, a resident of the small town of Onaga. "We like to compare ourselves to Buzz Lightyear and Woody: He's little bit country; I'm more hip-hop," said Tucker, adding that his mentor, who he keeps in touch with to this day, gave him "a positive role model in my life I was able to model myself after and who I respected."
Tucker, 34, is now a father himself, welcoming his first son to the world a little less than two years ago. "I'm really looking forward to being able to play catch with him and turn him into a man," said Tucker, a Kansas University police officer from Topeka.
Things could have turned out differently for Tucker. His best friend from childhood took a different path, getting mixed up in gangs and spending time in jail. Instead, around high school, Tucker turned toward more healthy activities, like sports. "I wanted to make my mom happy. I wanted to make my Big Brother happy," said Tucker, who went on to volunteer for the mentoring program himself.
Behind from the start
Mason was with his son for the first six months of his life. After that, Deryk lived with his mother, and Mason would go two or three years at a time without seeing him. Mason had to hear from other people about how his son was doing, and he grew concerned. Then, three years ago, after seemingly endless court battles, Mason was awarded full custody of Deryk.
Mason now makes sure his son is in school on a consistent basis, on a regular medication schedule, in bed the same time every night. The results showed in Deryk's last report card: straight-As.
"I'm really proud of him," Mason said. "He's come a long way."
Even though they're in a homeless shelter, Mason tries to give his son some normalcy. He and his fellow parents at the shelter have movie nights and take their kids bowling. Mason and Deryk do plenty of father-son stuff, too, such as riding bikes, playing basketball and going fishing and camping.
But it was a challenge to get to this point and, even then, the situation could have gone the other way: Mason has another son, a 5-year-old in Denver, who he's never seen.
"Anybody who thinks parenthood is a piece of cake needs to rethink that. Things come up every day you can't fathom," he said. "When I was going through things, I tried to find a fathers support group, but there weren't any there."
Enter Jery Marquez, a Lawrence social worker who has made it his life's work to advocate on behalf of dads.
The fatherhood and adoption support coordinator for the Kansas Children's Service League, a state agency, counsels struggling fathers, either one-on-one or in support groups, wherever it is he finds them: jail, court, home. He advises them on issues like divorce, custody battles, troubled children.
"We as men are not used to looking for help when we are going through something like that," Marquez said. "Dads don't necessarily need therapy — they need someone who's willing to listen to them."
Marquez also tries make the hodgepodge of local social-service departments partners on parenting issues. Like fatherhood itself, that hasn't been a cakewalk. Some agencies take the side of the mother and won't even listen to what the dad has to say; they've literally shut the door on Marquez when he has tried to reach out.
His message: Give fathers a chance.
"We as men are as capable of doing everything moms do except breastfeeding," he said.
Marquez practices his gospel. The 36-year-old not only has a daughter with his wife but has become a stepparent to her older son.
It's not that many dads don't want to be good fathers, he said, it's that they often don't know how. So it's his mission is to provide them with the tools needed to build strong relationships with their children.
"I really feel love for dads. I get frustrated when I see them struggle, when they're doing their best and things don't work well," he said. "It's also frustrating when they don't do their part. But it's amazing when you see them changing."
Copyright 2018 The Lawrence Journal-World. All rights reserved. This material may not be published, broadcast, rewritten or redistributed. We strive to uphold our values for every story published.