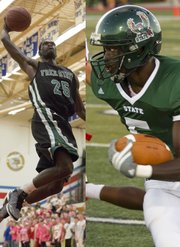 Pretty much ever since he first grew comfortable dribbling and shooting, Khadre Lane has identified himself as a basketball player.
As he approaches his senior year at Free State High, though, others have begun to look at him in another light.
Despite receiving more accolades for his performances on the basketball court this past winter, Lane gained attention from some college football programs after spending the fall of his junior year on the gridiron.
"It's crazy," Lane said. "My (FSHS) coaches were telling me it could happen, but I didn't believe anybody."
The high-flying, 6-foot-4 forward slashed and dunked his way to the All-Sunflower League's third team, but he didn't even start at receiver or defensive back. The bits and pieces college football coaches saw of Lane in a helmet and pads enticed them enough to inquire about him, and the same athleticism that helped him average 13.3 points and 5.0 rebounds led to that interest.
At this point, Lane has received no football scholarship offers, but he has spoken with coaches from Kansas, Kansas State and Western Illinois. He attended camp at K-State on Thursday and will go to KU's camp on June 25, a week after attending WIU camp Tuesday.
Today, he's off to Wichita State, for basketball coach Gregg Marshall's camp.
A year ago, playing college football wasn't on Lane's radar. He focused most of his summer efforts on hoops, suiting up for the KC Run GMC AAU program. By the fall, basketball coaches from Missouri State and San Francisco came to watch him work out at Free State. Then Southern Illinois coach Barry Hinson did the same in the spring. Periodically, after Lane had a productive weekend or outstanding game at an AAU tournament, Free State boys basketball coach Chuck Law heard from coaches at other programs, such as Pepperdine and Drake.
Lane doesn't have any basketball offers to date, either. Still, he figures he'll have to choose between basketball and football at some point in the next year.
"It's hard to wrap my mind around," Lane said. "But it's a good problem to have, so I don't really mind."
During his freshman and sophomore years at Bishop Seabury Academy, before he transferred to Free State, Lane didn't have the option of playing football, because Seabury didn't have a program at the time.
Once he had a chance to get on the football field, Law said Lane found a passion for that sport, too. Law coached former Free State football and basketball standout Christian Ballard, who went on to become a defensive end at Iowa and now plays for the Minnesota Vikings. Ballard's situation doesn't mirror Lane's, because Ballard knew football would be his path to success.
"I don't know that I've had a guy who has the kind of opportunities that Khadre's gonna have in both sports," Law said.
Free State's football coaches, head football coach Bob Lisher said, aim to make Lane into the best football player they can. The rest is up to him.
"He has unbelievable athletic ability, and what we've seen from him already at camp (earlier this month) compared to last year is just miraculous improvement," Lisher said. "He's understanding everything better, route-running is better, hands are better. He feels more comfortable, obviously, and that allows your athletic ability to take over and do things more naturally."
June has been and will continue to be football-heavy for Lane, who tries to get in as much basketball as he can, as well. But in a few weeks he'll be back to the AAU circuit.
"As soon as July comes, all the big coaches will be out watching us, so I've got to work a little harder in the weight room and get more shots up, on top of doing this (playing football)," Lane said. "We'll see what happens. I've talked to a lot of coaches."
He also spoke with a KC Run GMC teammate for advice. Lane played with Lee's Summit West, Mo., three-sport star Monte Harrison last summer. Harrison, a 6-foot-2 receiver, already has multiple Div. I football offers, and his skills as a center fielder have baseball coaches intrigued, too. Harrison told Lane each athlete has to do what makes him happy.
"If I go to a school to play football, and I don't like football as much and want to play basketball, then I'm gonna be miserable for four years," Lane said.
With so much to consider, including the quality of academics at potential universities, and so much unknown in terms of offers that will be available, Lane's future remains a bit of a mystery.
"Honestly, when the time comes," he said, "I'm just gonna talk to my family and whatever seems right at that moment, I'm gonna do it, and I'm gonna live with it."
Copyright 2018 The Lawrence Journal-World. All rights reserved. This material may not be published, broadcast, rewritten or redistributed. We strive to uphold our values for every story published.