A few years ago, a gentleman sat down in my office and told me he wanted to be a Master Gardener but felt unqualified.
I smiled and asked, "Do you like to garden?"
"Sure," he replied, "but I don't know all of those scientific names and stuff. It's just fun to me."
"Have you ever done volunteer work?"
"Yes, that's what got me interested in the program," he says, "but I don't know enough to be a 'Master' of anything. I don't think I can pass the test."
I think to myself that whoever started the rumor about tests probably made the first mulch volcano. I was glad this man was asking questions. I explained that K-State Research and Extension provides training, and that the title was more about a commitment to the community than a level of expertise.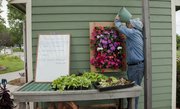 Master Gardeners
What Master Gardeners like best about being Master Gardeners:
• Learning
• Educating others
• Helping their communities
• Sharing what they love
• Friendships and networking with other gardeners
Gardener Sam, we'll call him, went through the Master Gardener basic training that fall. The training class meets once a week, on Tuesdays, from 9 a.m. to 4 p.m. with an hour break for lunch. This year's training dates are Aug. 20 through Nov. 12.
Like many trainees, Gardener Sam was surprised to learn that many of the training presenters are professors from Kansas State University. Others are local experts, and they even let me teach a few of the subjects. Experienced Master Gardeners provide support for a few lab and hands-on activities, like dissecting flowers and identifying insects.
In the year following the basic training, Gardener Sam and the other trainees were required to spend 40 hours helping with Master Gardener activities. Gardener Sam helped with the planting of a new garden area in the Fairgrounds Demonstration Gardens, put together educational resources for the Spring Garden Fair, and manned the Master Gardener information table at the Downtown Lawrence Farmers' Market a few weekends.
He found his niche in the organization that spring, though, when he started working with Junior Master Gardeners, a partnership program between Douglas County Master Gardeners and Boys and Girls Club of Lawrence.
When Gardener Sam completed his 40 hours of service, he received an official Master Gardener name tag and learned the secret handshake. Now, he is required to volunteer 20 hours per year and attend at least 10 hours of continuing education courses each year.
The continuing education is required because K-State Research and Extension wants to ensure Master Gardeners stay current with the latest gardening information. A free training session is held each month in Douglas County for active program volunteers.
The Master Gardener grapevine also helps active members learn about free educational opportunities related to gardening in the region. Kansas State University hosts a statewide conference for Master Gardeners each year with opportunities for education on a variety of garden-related subjects, and an International Master Gardener Conference is held every two years for interested participants.
Gardener Sam is one of 158 active Master Gardeners here in Douglas County. In 2012, the organization cumulatively gave back 9,357 hours to the community and had contacts with more than 3,000 Douglas County residents.

A few weeks ago, Gardener Sam stopped by my office again.
"I'm so glad I did this," he told me. "You know I never thought I knew enough, but I've learned so much. It's really the people who make this program."
Although there is a $100 fee for the basic training course to cover a book and materials, ongoing education sessions are free to active Master Gardener volunteers.
According to a survey conducted in August 2012, nearly two-thirds of the organization's members are over 60; about one-third are between the ages of 45 and 59; and a very small percentage are younger. Nearly half of the organization is employed part- or full-time in addition to their volunteer commitment.
For more information, visit K-State Research and Extension – Douglas County at 2110 Harper St., Lawrence; call 843-7058; or visit our website at www.douglascountymastergardeners.org. Applications are accepted on a first-come, first-served basis and will be taken until the class is full.
— Jennifer Smith is the Horticulture Extension Agent for K-State Research and Extension in Douglas County. Contact her or an Extension Master Gardener with your gardening questions at 843-7058 or mastergardener@douglas-county.com.
Copyright 2018 The Lawrence Journal-World. All rights reserved. This material may not be published, broadcast, rewritten or redistributed. We strive to uphold our values for every story published.