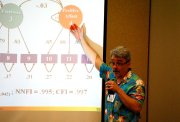 Contact KU and higher ed reporter Sara Shepherd
Have a tip or story idea?
---
More stories
Bob Heiser says this is like a vacation for him. No, really.
Heiser drove for 23 hours from Maine to be in Lawrence, where he's spending the week learning about statistics. And for him, he says, this is just what he wants from his summer: Free from his teaching responsibilities, he can just sit down and think about his research.
An associate professor of marketing at the University of Southern Maine, Heiser is one of more than 260 professors, students and researchers from around the United States coming to Lawrence this month to take part in an annual summer event put on by Kansas University faculty and students called "Stats Camp."
"When summer comes around, our passions finally come out, and we do what we want to do," Heiser said.
What these researchers from different disciplines want to do, in this case, is learn about cutting-edge statistical analysis techniques they can use to sort through huge piles of data to answer social-science questions. The program was founded by Todd Little, a KU professor of psychology, 10 years ago as the KU Summer Institute in Statistics, but by the end of that first week one participant had coined the name by which it's largely known today, "Stats Camp."
It began that summer as one course on statistics, with 13 students. Now Stats Camp, held at the Lawrence Holiday Inn, features 15 courses that draw 200 to 300 people each summer over the course of three one-week sessions.
Little also directs KU's Center for Research Methods and Data Analysis, where he and others study new analytical methods and help other researchers at KU and elsewhere examine their data.
As universities push harder for research grants to make up for tightened budgets, and technology advances make new kinds of analysis possible, advanced statistical techniques become more important for faculty everywhere, Little said.
"If you are a serious researcher in social-behavioral sciences, you need to know these techniques," he said. "But there are very few places to get the training."
The Stats Camp courses are taught by researchers from KU and elsewhere. Among the instructors this week is a Harvard University professor, and it was she who asked Little if she could come teach, not the other way around.
"I've been dying to come teach at Stats Camp forever," said Katherine Masyn, a statistician at Harvard's Graduate School of Education. The course she's teaching is more advanced than any she could teach just for her students at Harvard, she said. (The subject: "Applied Latent Class Analysis and Finite Mixture Modeling.")
This year's Stats Camp enrollees come from 16 countries, including Ethiopia, Finland and Trinidad and Tobago, and 41 U.S. states. They've paid registration fees that range from a few hundred dollars to nearly $2,000 for each course.
They come to learn statistical concepts they can use to answer all kinds of questions. Dorothy Espelage, a professor at the University of Illinois, will use them to study whether middle-school bullies are more prone to things such as sexual harassment or violence later on, and why. Lauree Tilton-Weaver, a psychologist at Örebro University in Sweden, has used them to find that children can be strongly influenced by delinquent peers beginning at age 10. And Heiser has looked at how consumers' experiences — say, an unpleasant interaction with a store clerk — can shape their impressions of certain brands for the rest of their lives.
And as computer technology helps researchers' knowledge of statistical techniques expand rapidly, Stats Camp students can learn about stuff that hasn't even made it into books or journal articles yet.
"You could read the book and learn 10 years from now the stuff that we're teaching today," Little said.
Participants say the "camp" really is a fun time for them, too. They eat together at a cookout each week and take a bus downtown other evenings. Espelage, who's on her fourth Stats Camp, is practically a Lawrence resident by now: She attends the Red Dog's Dog Days workouts and is a regular at the Replay Lounge during the weeks she's here.
And when they get back home, they'll use what they've learned to answer questions and solve problems that wouldn't otherwise be possible.
"These techniques are about improving the science so we can give better answers," Tilton-Weaver said.
Copyright 2018 The Lawrence Journal-World. All rights reserved. This material may not be published, broadcast, rewritten or redistributed. We strive to uphold our values for every story published.