Lawrence crime, fire, courts coverage
Have a tip?
Contact Journal-World reporter Caitlin Doornbos: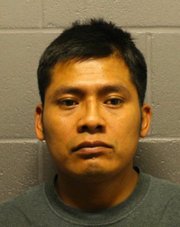 A 33-year-old Lawrence man has been sentenced to almost five years in prison for paying to have sex with a 14-year-old girl in January.
Crescenciano Donato Hilario was sentenced Tuesday in Douglas County District Court, after pleading no contest in April to one count of aggravated indecent liberties with a child. Prosecutors had accused Hilario of taking advantage of a 14-year-old girl who had become drunk at a party at a Lawrence apartment complex in January.
In a preliminary hearing, the victim, who has since turned 15, testified that she had been drinking all day and left school early to go to a party with some friends. That evening, she said, Hilario lured her into a van and assaulted her.
"This was not consensual," said Douglas County Assistant District Attorney Mark Simpson. "Because of circumstances in her life, the victim was in a place she shouldn't have been, with people she shouldn't have been with. But in my mind, that makes it worse. She was vulnerable, and he took what he wanted."
Hilario admitted that he had paid others at the party for the opportunity to have sex with the victim, according to his court-appointed attorney, John Kerns. "This was a very sad case, and I hope the victim and the other teenagers that were involved in their sex-for-money operation get the help they need."
Tuesday in court, Hilario spoke through an interpreter and said his imprisonment would be a hardship on his family in Mexico. He said he was an orphan with several young brothers and sisters for whom he was financially responsible. "I haven't been able to help them with school, rent, anything," he said.
Douglas County District Judge Paula Martin found that, because Hilario had no criminal record, Kansas sentencing guidelines dictated a 59-month prison sentence in this case. She said Hilario would also be on lifetime supervised release and offender registration. And, because he is not a U.S. citizen, he could face deportation after being released from prison.
Copyright 2018 The Lawrence Journal-World. All rights reserved. This material may not be published, broadcast, rewritten or redistributed. We strive to uphold our values for every story published.