Two years ago, Ben Postlethwait participated in the Ironman 70.3 Kansas triathlon, but his race ended early when his bike malfunctioned in the middle of the course. At the time, he was suffering symptoms of Hodgkin's lymphoma — he just didn't know it yet.
Photo Gallery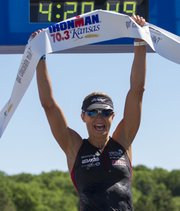 Ironman 70.3 Kansas 2013
Five months after that "frustrating" finish, Postlethwait was diagnosed with Hodgkin's, a cancer that starts in the lymphocytes.
Although he gained weight from medication and his breathing was impaired, Postlethwait continued training — though not as rigorously — while undergoing chemotherapy treatments.
Now, he said, he is feeling "100 percent." And on Sunday, just over a year since his chemo ended, Postlethwait competed in his first triathlon since being diagnosed.
He met his goal, completing the same Ironman 70.3 triathlon in under 7 hours. His final time was 6 hours, 35 minutes and 22 seconds, and he enjoyed the experience more than ever before.
"I don't feel pressure to get that perfect time because I realize last year was a rough comeback for me," Postlethwait said prior to the race. "I will let myself have fun with it more than I did before just because I'm here and able to do it."
Cheering them on
Hundreds of spectators gathered at Clinton State Park on Sunday morning to watch as the 1,400 triathlon participants swam, biked and ran their way through the course.
People lined up on either side of the road near Campground 3, clanking bells and cheering on their friends and family.
Ed Weisshaar, of Lawrence, and his three sisters, Donna King, Nancy Amdor and Mary Metzger, all from Iowa, huddled together near the finish line late Sunday morning. They were there to support their niece, Adrienne Amman, and her husband, Matthew. The couple travelled from Milwaukee to compete in the Ironman 70.3 Kansas for the third consecutive year.
The siblings were enjoying the weather — blue skies, little wind — and waiting to catch a glimpse of their niece, who ended up finishing the race in 4:46:41. In the meantime, the four mused about the highlights of their day, which had started at 4 a.m.
"I've never been to a triathlon before," King said. "I really have fed off the music, the energy and the athletes."
For Metzger, it was the inspiring stories, like Postlethwait's, that made her day.
"When they were getting ready to start swimming, we were able to hear some of the stories about what people have done to get here," Metzger said. "It is just amazing."
Top finishers
The triathlon comprises a 1.2-mile swim, 56-mile bike ride and 13.1-mile run.
The competitors started with a swim in Clinton Lake, and then rode bikes on a course through southwest Douglas County. The triathlon concluded with two running loops around the Clinton State Park campgrounds.
Craig Alexander, an Australian athlete who won the 2008, 2009 and 2011 Ironman Triathlon World Championships, finished first with a time of 3:51:26. Emma-Kate Lidbury, a five-time Ironman 70.3 champion, finished first in the women's division in 4:15:49.
Hines Ward, a retired NFL wide receiver and "Dancing with the Stars" winner, had a 5:53:18 finish time.
The top 50 finishers will be entered into the Ironman World Championship on Sept. 8 in Henderson, Nev.
Copyright 2018 The Lawrence Journal-World. All rights reserved. This material may not be published, broadcast, rewritten or redistributed. We strive to uphold our values for every story published.