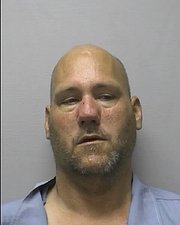 A 52-year-old man convicted of murdering a child in Lawrence more than two decades ago could be paroled next month, according to the Kansas Department of Corrections.
John William was a 29-year-old with no fixed address when he was convicted in the July 1988 killing and mutilation of a 9-year-old Lawrence boy. Richard Settlemyre's body was found along the Kansas River two days after he was last seen fishing with William. His head, hands and feet were severed from the body, and other wounds were discovered on the body.
William was convicted of first-degree murder on Nov. 17, 1989, after a weeklong trial. He was sentenced to life imprisonment.
Since then, the 6-foot-9, 325-pound William has been in Kansas prisons and Larned State Hospital. After a parole hearing at El Dorado prison next Tuesday and Wednesday, William could be released at the beginning of July.
Douglas County District Attorney Charles Branson has said his office will oppose William's release.
Copyright 2017 The Lawrence Journal-World. All rights reserved. This material may not be published, broadcast, rewritten or redistributed. We strive to uphold our values for every story published.