Lawrence crime, fire, courts coverage
Have a tip?
Contact Journal-World reporter Caitlin Doornbos: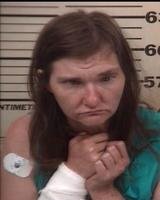 A 42-year-old Jefferson County woman has been charged in an alleged murder-for-hire scheme, accused of trying to trade her government assistance check for the killing of an ex-boyfriend.
Local law enforcement became aware of the plot Thursday, said Jefferson County Sheriff Jeff Herrig, when a witness reported that Rebecca N. Burch, of Lakeside Village, had tried to hire the witness to kill an ex-boyfriend. Herrig said the exact sum of money involved was unclear, but Burch had offered a government assistance check in payment.
Burch was arrested Friday after an undercover officer contacted her about the scheme, posing as a prospective contract killer while wearing a hidden recording device, Herrig said.
Burch was charged in Jefferson County District Court on Monday with solicitation of first-degree murder and held in the county jail with bond set at $150,000. If convicted, she could face a prison sentence between 55 months and 20 years, depending on her criminal history.
Burch is scheduled to appear in court again on June 12.
Copyright 2018 The Lawrence Journal-World. All rights reserved. This material may not be published, broadcast, rewritten or redistributed. We strive to uphold our values for every story published.