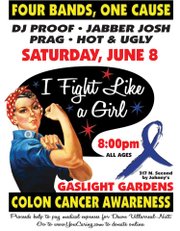 Lawrence small-business owner Dawn Villarreal-Nutt found out she had cancer at the worst possible time earlier this year: When she was uninsured. Since being diagnosed with colon cancer in March, friends and family have been trying to raise money to help with some of the medical bills that have been piling up.
While Villarreal-Nutt's condition is improving after starting chemotherapy, her loved ones are still thinking about her. They are hosting a fundraiser concert for her on Saturday at 8 p.m. at Gaslight Gardens, 317 N. Second St., near Johnny's Tavern. The all-ages show will feature performances by DJ Proof, JabberJosh, Prag and Hot & Ugly.
The event is being held to not only to raise money for Villarreal-Nutt but also awareness about colon cancer, which struck Villarreal-Nutt at the age of 47, three years before colonoscopies are recommended. People can also visit YouCaring.com to donate to her cause online.
Copyright 2018 The Lawrence Journal-World. All rights reserved. This material may not be published, broadcast, rewritten or redistributed. We strive to uphold our values for every story published.