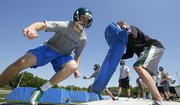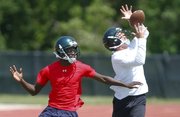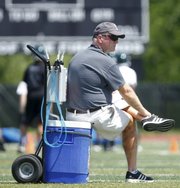 No one familiar with Free State High's football program would have had any problems spotting the many veteran players whose faces were partially hidden behind their helmets and face masks Monday morning during the first day of summer camp. But the Firebirds still managed to look unrecognizable at times, in comparison to the 2012 team that finished 10-2 and advanced to the Class 6A state semifinals.
It wasn't just the presence of a different quarterback, senior Joe Dineen, taking snaps with the first team that made the difference, either.
"Our whole offense is changing a little bit. It's gonna be fun," Dineen said. "We're gonna try to come with a whole new team, a whole new system."
Coach Bob Lisher envisions his Firebirds utilizing various formations and anywhere from one to three running backs from play to play. Plus, instead of using small, quick slot receivers, this group will have bigger, stronger players lining up in those spots, and they'll be asked to play in the backfield, too.
"The main thing is to get some of our offensive sets together, where people feel comfortable." Lisher said of his goal for the four-day camp before Free State travels this weekend to Northwest Missouri State University's padded, contact camp.
Senior Blake Winslow spent most of his time on offense last season as a receiver. Now, he and other players will become hybrids, moving around.
"We've got some guys that are playing two or there positions," Winslow said, "playing receiver and running back. It's gonna be different."
Free State anticipates using a lot more checks at the line of scrimmage, too. That will be another adjustment for Dineen at quarterback and the skill players around him, such as passing targets Khadre Lane and Zach Bickling and running backs Winslow, Stan Skwarlo, Keith Loneker and Carson Bowen.
Said Winslow: "We've got a lot of athleticism and speed in our backfield, and with Khadre out wide. It's all gonna come down to the offensive line. They're gonna have to play good, because we're gonna go off of them."
Tackle Fred Wyatt, center Reid Buckingham and guard Tyler Sampson (all seniors) return as starters on the offensive line. Loneker said all the offensive players can make the others look better if they can jell this summer.
"Nobody's spot is in stone right now, so you've got everybody working hard," Loneker said. "Hopefully there's a couple kids that come in and make a name for themselves."
There will be less newness to Free State's defense, so Lisher doesn't expect those adjustments to take long for a group led by seniors — lineman Wyatt, linebackers Skwarlo, Loneker and Winslow, safety Dineen and back Lane.
"I want to see them play fast," Lisher said, "and I want to see a lot of senior leadership."
Free State's season ended one win away from the state championship game last fall, and Lisher isn't lowering expectations this season, despite the loss of some crucial players to graduation.
"We got to the final four last year," the coach said. "We'd like to get to the final two this year and make something happen."
Dineen, Loneker and Winslow agreed the Firebirds are a long way from being as good or better than they were in 2012, but Winslow pointed out one of many reasons for them to be confident.
"We're usually a team that gets real strong at the end of the year," Winslow said, "and kind of gets the late push, and I think we'll do that again this year."
Copyright 2018 The Lawrence Journal-World. All rights reserved. This material may not be published, broadcast, rewritten or redistributed. We strive to uphold our values for every story published.