Lawrence crime, fire, courts coverage
Have a tip?
Contact Journal-World reporter Caitlin Doornbos: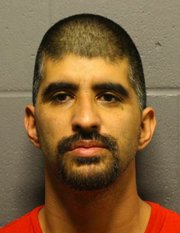 A 30-year-old Minneapolis, Kan., man has been charged with two felony drug offenses in connection with a Saturday afternoon disturbance in which a witness reported a gunshot fired in the parking lot of a Lawrence McDonald's at 4911 W. Sixth St.

Lawrence police arrested Anthony D. Foster Monday after an investigation into the incident led investigators from Lawrence to Topeka and then Minneapolis, about 15 miles north of Salina. In what investigators believe was a drug-related robbery Saturday about 3 p.m., a witness reported a shot was fired in the restaurant's parking lot, said Sgt. Trent McKinley, a Lawrence Police Department spokesman.
A 31-year-old man who reported the gunshot suffered a minor injury to his hand in the incident but was not shot. He declined medical treatment, McKinley said, and investigators still have not confirmed that a gun was fired in the parking lot. Police are still seeking more suspects in the case and anticipate more arrests.
Several people believed to have been involved in the disturbance had left the area before police arrived, McKinley said. A black Dodge Charger, registered in Shawnee County, was involved in the incident and remained at the scene.
Monday, Foster was booked into Douglas County Jail, where he remained Tuesday. Douglas County prosecutors charged him Tuesday afternoon with two felony drug offense related to the Saturday incident. Prosecutors accused Foster of conspiring by phone to buy more than a kilogram of synthetic marijuana from a seller in the parking lot of the McDonald's. Separately, they charged him with attempting to make the purchase.
Foster was convicted of domestic battery and drug possession in Shawnee County in 2010. He spent almost five years in federal prison between 2003 and 2008 after pleading guilty to distributing methamphetamine in Shawnee County in 2002.
Douglas County pro-tem Judge James George set bond in the case at $50,000. Foster next appears in court on June 11.
Copyright 2018 The Lawrence Journal-World. All rights reserved. This material may not be published, broadcast, rewritten or redistributed. We strive to uphold our values for every story published.