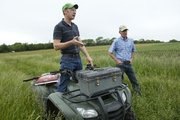 Farmer Kermit Kalb and his son, Stephen, worked indoors most of Friday, doing paperwork and making repairs. Their land in southeast Douglas County was too muddy to work, the grass too wet and the creek too full from the recent rainfall. It was what Kermit Kalb called a "standstill day" for his farm, where they grow corn, soybeans and wheat.
Although the storms caused erosion, took out some freshly planted crops and caused damage to a fence on their property, the Kalbs, whose farm is located in moderate drought territory, welcomed the 3.25 inches they received on Thursday and Friday.
"We're in a lot better shape since we got some moisture this year," Kermit said. "It's probably been 18 months at least since we've had this much rain in a 48-hour period."
Rain is a good thing, especially here in Kansas. And especially following a 2012 farming season where a lack of rain led to disaster declarations throughout the state, calls to conserve water, and a myriad of ecological and environmental effects.
This past week's storms and accompanying 3 inches of rain brought May precipitation totals in Lawrence to more than 6 inches, nearly double 2012 numbers and above the local average of 4.8 inches, according to data from the Kansas State Climatologist Office.
And so far in Lawrence in 2013, precipitation totals — more than 14 inches — are well above the drought-plagued 11.7 inches seen through May 2012.
Drought conditions so far
The U.S. Drought Monitor shows that parts of Douglas County, as of May 28, experienced a moderate drought or abnormally dry conditions through the first part of 2013. However, Mary Knapp, state climatologist, said she expects the map to change, especially in the northeast region of the state, which experienced the highest rainfall this week.
"North of the Kansas River will be considered drought free," Knapp said. "South of the river, there may be reductions."
But it will take more than one heavy rainfall to alleviate the long-term deficit. Knapp said regular rainfall patterns through June, July and August are needed to truly improve drought conditions.
And, according to the outlook for June, a normal rainfall pattern looks possible. There is a greater probability for precipitation and for temperatures to trend below normal, Knapp said.
"That outlook gives us a little bit more hope that we can have a normal start to June, and a normal start to June makes it a little more likely that our summer will not be a repeat of last summer," she said.
'A lot can happen'
Back in Douglas County, the Kalbs also hope to avoid weather like they experienced in summer 2012, conditions that Kermit Kalb said were as bad as he has seen in about 30 years and that caused a quick end to their crop season.
So far, this summer is going better for the Kalb farm. but, because of what he has experienced over a lifetime of Kansas farming, Kermit Kalb is not getting too optimistic.
"We have the prospects of a very good wheat crop," he said, "but we're four weeks before harvest, and a lot can happen."
Copyright 2018 The Lawrence Journal-World. All rights reserved. This material may not be published, broadcast, rewritten or redistributed. We strive to uphold our values for every story published.