Lawrence crime, fire, courts coverage
Have a tip?
Contact Journal-World reporter Caitlin Doornbos: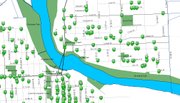 It was one more small theft in North Lawrence.
On May 10, a 67-year-old retired man discovered two items stolen from his property on North Eighth Street: an old five-foot-long metal Coca-Cola sign, worth $200, and a vintage red globe traffic light, worth $100.
It happens all the time. Radiators and batteries are stolen from vehicles, copper wire is stripped wherever it can be found, and residents find items missing from their yards.
"It's just gotten out of hand," said Ted Boyle, president of the North Lawrence Improvement Association.

The problem has grown worse over the past five years, Boyle said, and residents are fed up with it. The neighborhood group called a special meeting last week to discuss the problem with police and city officials. About 50 residents — more than twice the usual attendance, Boyle said — met with a Lawrence police captain, an officer who patrols the neighborhood, and city commissioners Mike Amyx, Bob Schumm, and Jeremy Farmer. The group quickly zeroed in one part of the problem: many of the thefts had never been reported to police.
"It does make it difficult," said Sgt. Trent McKinley, a Lawrence Police Department spokesman. Sometimes people don't report thefts because they don't want to bother police, or because they think it unlikely the property or the thief will ever be found. If they left a car unlocked and found items stolen, or don't have a serial number written down for a piece of missing property, people sometimes just shrug their shoulders and don't call police.
"But they should," McKinley said. Police often recover stolen property from a suspect while making an arrest in an unrelated case, but can't match the property to an owner without records. And without records of those thefts, it's harder to establish criminal patterns and attach those criminal cases to a suspect for prosecution. Just because you don't have a serial number for a stolen bike or stereo, McKinley said, doesn't mean the property can't be recovered or that you shouldn't report the theft.
Because not all thefts are reported, statistics only tell part of the story. But some types of thefts have been on the rise across Lawrence over the past few years, according to police records. Reports of thefts from buildings, for example, climbed to 467 in 2012 from a low of 306 in 2009.
Boyle, with the North Lawrence neighborhood association, said the meeting reminded everyone that residents and police would have to work together to solve the problem. "Of course, the police department is just as good as the information they get," he said. "I think people had gotten careless, and then we have this rash of burglaries and thefts."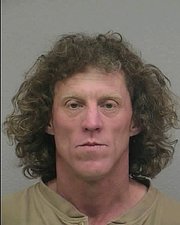 In the case of the Coca-Cola sign and traffic light missing from North Eighth Street, the property owner did file a police report the next day. More than two weeks later, officers investigating the case found a suspect just a few blocks away on Locust Street. They arrested Michael Dale Siler, 42, of Lawrence, on suspicion of methamphetamine possession and illegally carrying a weapon. They also issued him a citation to appear in municipal court for the theft case. The property wasn't recovered immediately, but it could be matched with its owner by the police report if found.
Siler, who has spent time in Kansas prisons for being convicted of forgery, burglary and theft in Douglas County, was charged with misdemeanor drug possession and released on a $3,750 bond. That pointed to another issue discussed in Thursday's meeting: many residents were irked that some people seemed to be repeatedly arrested and charged with offenses like theft, only to be released from jail again.
That may be a harder problem to solve. According to the law, suspects charged with misdemeanors and low-end felonies can't be kept in jail indefinitely. City officials and police said that they sympathized with residents' frustration, but there was little local government could do about that.
Participants in Thursday's meeting discussed organizing a second meeting in the near future, and possibly inviting an official from the Douglas County District Attorney's Office to talk about the criminal justice system.

In the meantime, police and city officials said they hoped residents would report any thefts that occur in the future.
"It's a shared responsibility type of thing," Jeremy Farmer, one of the city commissioners at the meeting, said. "For whatever reason, if people don't feel like they should report it, or they don't report it, that puts us all at a disadvantage."
Copyright 2018 The Lawrence Journal-World. All rights reserved. This material may not be published, broadcast, rewritten or redistributed. We strive to uphold our values for every story published.