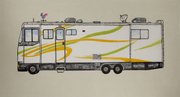 Wonder Fair this month is displaying works by last year's Wonder Fair Print Invitational winner, and issuing a call for artists for this year's Invitational.
"The Best of All Possible Worlds," a solo show by printmaker Josh Winkler, will be on display through June 23 at Wonder Fair, 803 1/2 Massachusetts St.
Winkler holds a master of fine arts degree from the University of Minnesota, where he also has taught printmaking, and currently lives in northwest Indiana, where he is building a stone cabin and creating new works on paper.
Winkler's satirical prints and drawings reflect his dedication to the art of living efficiently alongside nature. According to Wonder Fair's description, "The Best of All Possible Worlds" examines the ways in which meaningless adjectives like "the best," "the most" and "the only" catalyze mass pilgrimages to nature's hot spots.
Works from the 2013 Wonder Fair Print Invitational will be on view July 26 through Aug. 25 at Wonder Fair. Submissions are due at Wonder Fair by 5 p.m. June 17. For details or to enter a digital submission, go online to wonderfair.com.
This year's juror is Michael Krueger, a Wisconsin native and internationally exhibited artist whose artwork reflects his interest in American history, contemporary American culture and personal memoir.
Copyright 2017 The Lawrence Journal-World. All rights reserved. This material may not be published, broadcast, rewritten or redistributed. We strive to uphold our values for every story published.