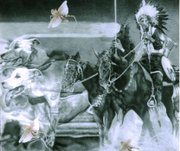 Artist Geo Sipp will be in Lawrence this week to speak about his graphite drawings — images on both paper and grained glass — on display at the Cider Gallery.
Sipp's talk and a reception are scheduled for 5:30 to 7:30 p.m. Thursday at the gallery, 810 Pennsylvania St.
Drawing from the codification of meaning and emotion by the media, Sipp's work seeks to re-evaluate the visual narrative to which we have become conditioned, according to an announcement from the Cider Gallery. His work includes "deconstructions" of widely published images and archetypes, creating a more accessible visual vocabulary for historical record.
Sipp is an associate professor at Missouri Western State University in St. Joseph, where he teaches drawing, painting, printmaking and illustration.
Cider Gallery hours are 1-5 p.m. Tuesday through Friday and by appointment or chance.
Copyright 2018 The Lawrence Journal-World. All rights reserved. This material may not be published, broadcast, rewritten or redistributed. We strive to uphold our values for every story published.