Brian Kelly and his wife, Bobbie-Frances McDonald, greeted passersby who stopped to view their car Saturday morning. Kelly explained the details and restoration process of the red 1934 MGPA, while McDonald, bedecked in authentic 1930s overalls, filled people in on how they came to acquire it.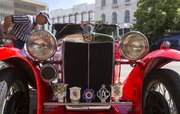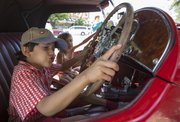 Kelly's was one of the cars on display during the Lawrence All British Car Club's annual car show Saturday in front of Brits, 929 Massachusetts St.
Kelly worked for just over seven years to restore the MGPA. A Manchester native, he wanted a British car that was completely original. He found a seller in 1987, and he and McDonald drove to San Francisco from their home in Orange County to pick it up.
"It took hours to load it," McDonald remembered. "At the time, it was in so many pieces, in coffee cans, brown paper bags and boxes, that it filled the 15-foot U-Haul from top to bottom. I was in tears."
Seven years later, the couple loaded the finished car and their furniture into the same 15-foot space to move east. And now, Kelly drives the car around Lawrence and to car shows every summer.
"He doesn't make these just for show," McDonald said. "People who put this much time, money and energy into them usually keep them hermetically sealed. Ours usually ends up with some mud and dirt."
Though they aren't afraid to drive the car, Kelly does take precautions.
"When he drives it to a car show, he sleeps out next to it," McDonald said. "I don't go. I am not sleeping next to the car."
British for a day
As a crowd gathered in front of the store to view the MGPA and the other cars on display, another group of people gathered on the back patio, where miniature Union Jacks were flying.
The British car show coincided with an event that Brits was hosting to celebrate the UK holiday, The Big Lunch, which brings neighbors outside to eat lunch together and celebrate community.
Brits transformed the area into Little London from 10 a.m. to 2 p.m. with a custard tart contest, a royal baby guessing game and a lunch of British delicacies like Scotch eggs, sausage rolls and Cornish pasties.

"The Big Lunch gets people together just to hang out with their friends and neighbors," said Brits employee Staci Garman. "We're getting people together to have fun."
Copyright 2018 The Lawrence Journal-World. All rights reserved. This material may not be published, broadcast, rewritten or redistributed. We strive to uphold our values for every story published.