Becky Bieker has been shooting guns since she was barely big enough to hold them.
"Somewhere around kindergarten I shot my first," says the 34-year-old, who grew up in Olathe and has spent all but five years of her life in Johnson County.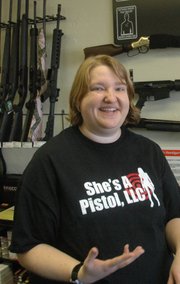 She's a Pistol
She's a Pistol LLC, at 5725 Nieman Road, Suite C, offers classes in self-defense, situational awareness, basic and advanced firearms training, concealed carry and NRA registration. For a schedule and more information, visit shesapistol.com or call 866-998-5223.
"My dad started us out on .22-caliber long rifles. I remember going down to what he used to call the city dump, which was really just a spot of land where people left their junk, and we'd shoot at tin cans."
So it's a bit of a surprise when Bieker, who owns She's A Pistol LLC in downtown Shawnee, cautions that gun ownership isn't for everyone. She gives that advice to her customers on a regular basis, she says.
"A handgun is not the right answer every time."
The female owner of a firearms shop that caters especially to women, Bieker might be the most heavily armed social worker in America. Last August, she moved the business from south of the city to its current spot on Nieman Road, just north of City Hall. Since then, business has been booming, with an influx of customers from all over the Kansas City region, many of them women seeking self-defense for the first time.
"Something in their life has triggered a desire to protect themselves," Bieker explains. "They come in a little hesitant, feeling overwhelmed. Maybe they've had a break-up, they're having ongoing problems with an ex. They're afraid to go home in the dark, afraid to walk to their car from work."
That's where Bieker and her team of experts and trainers step in, offering a brand of one-on-one, nonjudgmental guidance that isn't generally available at male-dominated big-box stores. They counsel newcomers on the pros and cons of personal weapons, often steering them instead toward nonlethal options like pepper spray or Tasers.
For such customers, She's A Pistol takes on a kind of big-sister role, Bieker says.
"They don't tell co-workers or family or friends, and yet they're coming into my store and saying, 'You've got to help me.'"
She's A Pistol is a rare project. Bieker estimates that, nationally, there may be 50 to 100 gun shops total that specialize in arming women, with even fewer owned by one. But for such a business to exist in a small, historic downtown like Shawnee's?
"I would certainly like to think we're the only one of our kind," Bieker says.
Mike Unterreiner, who owns nearby Hartman Hardware, agrees.
"There's no other places like hers around," he says. "It's not so much guns; it's all about empowering women."
The shop is coming up on its one-year anniversary, but business is so strong, Bieker already has plans to expand. A second location is "definitely in the works," she says, though she's not tipping her hand on a timeline or location.
"We love Shawnee," she says. "The community and the city have been very supportive. It's great."
Wherever Bieker fires next, Unterreiner thinks, it will be a hit.
"I wouldn't have guessed it," he says. "After she got moved in, there were some people who were skeptical.
"Now, pardon the expression, she's going great guns."
Copyright 2018 The Lawrence Journal-World. All rights reserved. This material may not be published, broadcast, rewritten or redistributed. We strive to uphold our values for every story published.