To 23rd Street Brewery waitress Jessica Betts, Seth Collins and his party seemed to be a normal table, but when she brought Collins his bill, she found that he was far from the average customer.
For her service Friday afternoon, Betts received a $500 tip from Collins.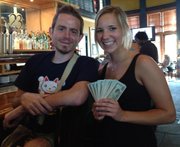 Collins, of Lexington, Ky., is traveling the country and leaving $500 tips for people as a way to honor his brother, Aaron, who died last July. Betts was the 60th person to receive such a tip.
"I didn't know why he was standing up and there was a camera, so I thought he was going to interview me for a school project," Betts said.
What Collins did instead was explain that Aaron had specified in his will that his family should leave an "awesome" tip of $500 for a waiter or waitress somewhere. In order to fulfill that wish, Collins set up a PayPal account where friends and family could donate money for that first tip.
The initial exchange was videotaped and, after going viral on the Internet, it helped raise more than $50,000 for Collins to leave $500 tips for waiters and waitresses.
Currently, Collins is taking a road trip and he plans to leave a $500 tip in each of the 50 states. Lawrence was the 10th stop of the trip.
"(Aaron) always had a soft spot for the service industry, even as a kid," Collins said, explaining that if his parents didn't leave a good tip, Aaron would leave some of his allowance on the table.
Betts said she plans to spend her $500 on others — she wants to help her uncle, who is in a "rough situation," and her roommate, whose dream is to go to hair school.
"I feel very blessed to have been here today and have gotten to be the one who got this," she said.
To learn more about Aaron's last wish, visit http://aaroncollins.org/
Copyright 2017 The Lawrence Journal-World. All rights reserved. This material may not be published, broadcast, rewritten or redistributed. We strive to uphold our values for every story published.