Lawrence crime, fire, courts coverage
Have a tip?
Contact Journal-World reporter Caitlin Doornbos: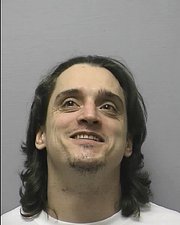 A 30-year-old man has been charged in connection with two robberies Sunday, at a pharmacy and a pizza restaurant in Lawrence, where a suspect allegedly threatened several employees, and struck one, with a crowbar.
Matthew Glen Allender was arrested about 6 p.m. Sunday in a wooded area near the 800 block of Highland Drive, in central Lawrence, where police were searching for a suspect in the robbery of Domino's Pizza, at 832 Iowa St.
Allender had recently been paroled from Kansas prisons, where he served time for burglary and theft convictions in Shawnee County. Douglas County prosecutors charged him today with aggravated robbery and attempted aggravated robbery in connection with two separate incidents Sunday morning and evening.
Police had responded to the reported robbery at Domino's about 5:40 p.m., hours after a similar robbery had been reported about 10:45 a.m. at a CVS Pharmacy, at 4841 Bauer Farm Drive, near Sixth Street and Wakarusa Drive, said Trent McKinley, a Lawrence Police Department spokesman.
At the CVS, store employees told police that a man entered the store carrying a crowbar, threatened employees with it and demanded money. The store clerk complied by opening the register, McKinley said, and the man grabbed some money and fled.
About six hours later, employees at the Domino's Pizza on Iowa Street made a similar report of a man threatening employees with a crowbar and demanding money. In this case, the man struck an employee with the crowbar and fled when his demands weren't met immediately, McKinley said. The employee who was struck was not injured.
Employees at both stores gave descriptions of a suspect, and video from security cameras at the CVS led police to believe the same man had committed both robberies.
As numerous police officers searched for the suspect near Domino's, a resident in the 800 block of Highland Drive reported a man hiding in a backyard. Police arrested Allender in a nearby wooded area, and he was booked into Douglas County Jail on suspicion of the two robberies and the reported battery of the Domino's employee.
Allender remained in Douglas County Jail today, with bond set at $60,000. Allender had briefly escaped from the Lansing Correctional Facility in 2011 while serving time for a previous conviction, and is listed as a parole absconder by the Department of Corrections, after being paroled to Shawnee County in May.
Allender is scheduled to appear in court again Wednesday. If convicted, he could face up to 20 years in prison, depending on his criminal history.
Copyright 2018 The Lawrence Journal-World. All rights reserved. This material may not be published, broadcast, rewritten or redistributed. We strive to uphold our values for every story published.