Traffic cones and construction flags dot Lawrence roads, and detour signs are posted throughout the city, the evidence of a multitude of ongoing road and neighborhood construction projects this summer.
Work on some projects has just begun, but others have been underway for months—and to some drivers, it probably seems longer.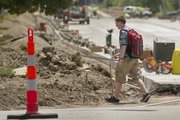 Here is a list of the current construction projects, how they're affecting traffic and their status:
Project: Iowa Street reconstruction
The Iowa Street reconstuction involves adding a center turn lane to much of Iowa Street, constructing a new roadbed and pavement and raising the western side of the intersection with Bob Billings Parkway to be on the same grade as the eastern side of the intersection.
Status:
The project currently is in phase two, and the intersection of Iowa Street and Bob Billings/15th Street is closed.
"We are finishing up the second phase," City Engineer Dave Cronin said. "Probably on July 31st we will have the intersection at 15th and Iowa reopened."
The city will then move into the third phase of the project, which is reconstruction of Iowa street. The work will take place just north of the intersection of Iowa and 15th streets, from Harvard Road to 15th Street. The scheduled completion date is Nov. 16. The city anticipates starting the third phase on Aug. 1st, but everything south of the currently closed intersection is expected to be finished by then, reopening the critical 15th Street entrance to the Kansas University campus in time for the start of the fall semester.
Project: Bob Billings Parkway eastbound lanes reconstruction
Bob Billings Parkway's eastbound lanes, from Kasold to Crestline drives, are being reconstructed, with a new water line installed along the roadway between Kasold Drive and Iowa Street.
Status:
The water line construction is almost complete and the city is installing storm sewers and underdrains, Cronin said. Shared-use wide sidewalks also are being added to the street.
The eastbound lanes are closed to traffic and all traffic has been shifted to the westbound lanes, with one lane of traffic in each direction. Speed limits have been reduced to 20 miles per hour. Motorists are advised to expect major delays and avoid the area if possible. The anticipated completion is Aug. 16.
Project: U.S. 40/Kansas River Bridge
Repairs are being made to the underside of the two spans over the Kansas River to complete the multiyear project that resurfaced the bridges.
Status:
As of today, the project is complete. "They're done with the bridge work, they're doing the pavement markings (Friday) and they should finish pavement markings Monday," Cronin said.
All traffic control will be taken down and should be back to normal by the end of the day today.
Project: Reconstruction of Wakarusa Drive north and south of Bob Billings Parkway
A portion of Wakarusa Drive is being rebuilt and repaved, and bike lanes and a center turn lane are being added.
Status:
Phase one should finish behind schedule on Thursday, but the targeted project completion date of Aug. 30 hasn't changed, Cronin said.
"I would think we're probably one week behind on our first phase but I think it's something the contractor can catch up and finish still by Aug. 30," he said. "We're anticipating opening the lanes of Wakarusa, south of Bob Billings (on Thursday), then moving to phase two, which will be just north of that intersection."
In the second phase, Wakarusa will be closed to through traffic north of Bob Billings and south of Legends Drive. There still will be access to businesses.
Project: 9th and Pennsylvania streets intersection/Pennsylvania Street reconstruction
The intersection of Ninth and Pennsylvania streets is being reconstructed. The city also had to relocate some utilities because they were in the right of way of the project and add storm sewers that weren't in the original plan.
Status:
The original expected completion date of the project was July 20, but the project is slightly behind because Pennsylvania is a brick street and it is taking longer than expected to lay the bricks. Ninth Street is finished and Cronin anticipates the work on Pennsylvania will take about three more weeks.
Project: Kentucky Street (library renovation)
While the Lawrence Public Library and the parking garage are under construction, fences have extended onto Kentucky street.
Status:
The tentative completion date for construction is next April. Until then, Kentucky Street from Seventh to Eighth streets is reduced to one lane. There will be intermittent closures of Kentucky Street when crews need to unload materials for the Lawrence Public Library or parking garage construction.
Project: 19th Street water main replacement
A water main is being replaced on 19th Street from Maple Lane to Harper Avenue.
Status:
Construction is scheduled to be completed by September. The street will remain open, but intermittent lane restrictions along 19th Street and temporary access restrictions at the intersections of Maple Lane and Harper Avenue will be necessary to complete the project.
Project: Oxford Road, Iowa to Hilltop Dr., water main installation
The City of Lawrence is replacing a water main on Oxford Road.
Status:
The project is on schedule for completion in mid-August. Until then, the road is closed to through traffic from 7 a.m. to 5:30 p.m. Monday through Friday, and there will be no parking along the roadway.
Project: 6th and Iowa Street intersection reconstruction
The city, along with the Kansas Department of Transportation, will widen Sixth Street to the north in order to add a dedicated westbound left turn lane, a dedicated eastbound right turn lane and a sidewalk on the south side of Sixth Street.
Status:
The project was delayed earlier this year. A decision on when the project will begin has not yet been finalized.
"We're still coordinating some concerns of the project with Kansas Department of Transportation and don't know what day it will start," Cronin said.
Project: Ninth and New Hampshire hotel construction
Developers for the Ninth and New Hampshire street hotel construction project have a right of way permit to close off part of New Hampshire Street.
Status:
The right of way permit is valid until September 2014. Traffic will move in all directions at the intersection, but lanes will shift and in some cases turn lanes will be removed during the project. The alley behind the project will be closed during at least the first phase of the project.
Other Douglas County projects
Project: U.S. Highway 56
Three bridges located on U.S. Highway 56 west of Baldwin City, between Douglas County East 1400 Road and 10th Street in Baldwin City, are being replaced.
Status:
The project is on track for an Oct. 11 completion. Until then, all lanes of eastbound and westbound U.S. Highway 56 from East 1400 Road to Sixth Street in Baldwin City will be closed to through traffic. A 30-mile detour route is provided.
Project: Old U.S. Highway 59 bridge replacement and repaving
A bridge is being replaced on old U.S. 59, just north of Pleasant Grove Hill.
Status:
Northbound and southbound East 1300 Road from North 1000 to North 650 roads will be closed to through traffic until mid to late August. The project is a bit ahead of schedule, but as soon as the project is complete the Kansas Department of Transportation will be repaving old U.S. 59 from the Franklin County line to N. 1000 Road, according to Nathan Jeffries, the KDOT Lawrence office construction manager.
Copyright 2018 The Lawrence Journal-World. All rights reserved. This material may not be published, broadcast, rewritten or redistributed. We strive to uphold our values for every story published.