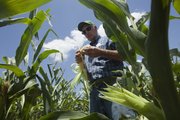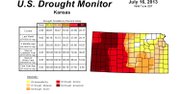 After a wet spring and a good wheat harvest, Douglas County farmer Kermit Kalb is looking to the sky again for rain.
The problem is, there hasn't been much. The weak thunderstorms that rolled through northeast Kansas over the weekend barely touched Kalb's land, where he hasn't seen any rain to speak of in weeks. More storms could be on the way, and Kalb is hoping they hit his part of the county. His corn needs it.
The weather took a turn for the worse after the beginning of June, when Kalb's fields in southeast Douglas County were too muddy to work, the grass was wet from a series of rainstorms, and the farmer could look forward to a solid wheat harvest.
The April and May rains that softened the ground for Kansas farmers such as Kalb, who grows wheat, corn, and beans on his land east of Baldwin City, trickled off in June. July has been dry, with only a fraction of normal rainfall in northeast Kansas, and drought conditions have crept back over Douglas County after the brief retreat this spring, according to data from the Kansas State Climatologist Office.
Things aren't nearly as bad now as they were last summer. Last July was marked by day after day of unbroken drought, which continued until virtually the whole state was declared a disaster area. This year, the skies have opened up with the occasional brief thunderstorm, which experts and farmers say is better than nothing.
On Saturday, scattered showers left a little rain in the Lawrence area: about an inch and a half in some areas, less in others. But those small amounts still leave the area far below average. And with no significant rain since June, Kalb examined his growing corn with concern.
The corn needs water now, as it hits a key growth period in preparation for an October harvest. Kalb still has high hopes for his fall crops, but he needs at least a little more rain in the next few weeks. "The sooner the better," he said. "It's in a critical stage."
Farmers all over Kansas are watching the skies, too, as more of the state has slipped into drought. A report this week from the National Drought Mitigation Center in Lincoln, Neb., which tracks drought conditions county by county across the country, showed only about 4 percent of the state free of drought. Douglas, Franklin and Jefferson counties were all in either moderate drought or are abnormally dry. Things were worse in the west, where about a quarter of the state was in extreme drought.
The area around Lawrence started drying up at the end of June, said Mary Knapp, a climatologist at Kansas State University. Douglas County received better than average rain in May by more than half an inch, leaving the area just under normal for the year.
"What happened is, the rain stopped," Knapp said. July has brought about 10 percent of its normal rainfall, and land still hurting from last year's drought had no subsoil moisture reserves to buffer another dry summer month.
"We lost ground really quickly," Knapp said. Once again, the county was below average for precipitation, with only about 80 percent of normal for the year.
The only reason things haven't been worse, Knapp said, is that July hasn't brought the same daily heat that paired with last summer's drought to make life brutal for everyone. High humidity has made things uncomfortable at times, Knapp said, but temperatures normalized in July after starting out about six degrees hotter than average.
Looking ahead, there is some reason for cautious optimism, said Brian Fuchs, a climatologist at the Drought Mitigation Center. The dome of hot, dry air that settled over Kansas and surrounding states last summer, keeping out any rain at all for months, did not return this year. That leaves the door open for summer thunderstorms, like the ones that passed through the area this weekend. A few more of those would be enough to bring some relief to farmer Kalb's crops, even if they don't bring enough moisture to end the drought. But most of the state, Fuchs said, is likely to keep suffering some level of drought, and things could get worse.
"Realistically," he said, "if we continue to see these dry conditions, it's going to impact more of the state."
East of Baldwin City, Kalb said he was far from despair Saturday, even though half of his land missed Saturday's rains completely, while the other half picked up just a fraction of an inch. He was hoping for more in the next couple of days, he said. "It's a start," he said. "It's coming."
While the corn, to be harvested in October, has been shrinking with each passing day of clear skies, Kalb's yield should be pretty good if he gets even a little more rain, he said. The soybeans have more time, and if they get watered in August they should be in good shape for a late-October harvest.
After the weekend showers, Douglas County would have good chances for more on Tuesday and Friday, according to the National Weather Service.
In the meantime, Kalb busied himself on this week's sunny days by baling hay to feed his animals in the winter. "It's good hay weather," he said. "Not all doom and gloom — nothing like last year."
Copyright 2018 The Lawrence Journal-World. All rights reserved. This material may not be published, broadcast, rewritten or redistributed. We strive to uphold our values for every story published.