On a clear, sunny day earlier this month, researchers from Kansas State University stood in an open field near Salina and demonstrated a flying object that could easily have been mistaken for a simple model airplane.
The V-shaped orange aircraft with about a five-foot wingspan soared at low altitudes over the field, making simple turns and maneuvers, circling around and then returning back to the controller.
At first glance, it didn't look much different from the sort of model airplanes that have been popular with hobbyists for years. But K-State researchers, as well as industry experts and a growing number of elected officials, say this vehicle represents the cutting edge of agricultural technology.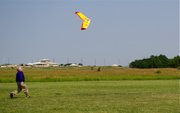 That's because this plane carried some of the same surveillance technology that the U.S. military has been employing in its Unmanned Aircraft Systems (UAS), or "drones," in Afghanistan and Iraq.
The plane was equipped with GPS navigational software and specialized miniature infrared cameras that can take high-resolution images of the ground below, enabling farmers to monitor plant health, locate trouble spots in their fields that can't be seen from the ground and even help make more accurate predictions of their eventual crop yields.
Drone advocates say the technology could provide a huge boost to the Kansas economy, spawning thousands of new high-paying jobs in the aviation industry and producing billions of dollars worth of new economic activity.
"As a global leader in aviation and aerospace, Kansas is a pioneer in the Unmanned Aircraft Systems market, which holds great promise for boosting the economy and creating jobs in our state," said U.S. Sen. Jerry Moran, a Kansas Republican, who attended the demonstration in Salina. "The number of ways farmers and ranchers can utilize UAS are endless."
But as the drone industry attempts to make the transition from military to civilian markets, including the agricultural industry, officials acknowledge they have one big hurdle to overcome: the passionate suspicion and scorn that many people, especially farmers and ranchers, have toward the whole idea of drone technology.
"Yeah, we've certainly seen it emerge," said Steve Gitlin, spokesman for California-based AeroVironment, Inc., a leading maker of UAS vehicles. "A lot of it is because people don't know this large category exists. All they know is what they see in the news — large, menacing systems that sometimes carry arms and sometimes kill many people. It's an educational process."
Legislating against drones
Just last summer, Republicans in Congress introduced legislation to prohibit the Environmental Protection Agency from using drones to fly over farms and ranches. That came after false reports circulated on the internet that the EPA was using drones to search for Clean Water Act violations.
Earlier this year, a bill was introduced in the Kansas Legislature to prohibit law enforcement agencies from using drones to gather evidence or other information. The bill never received a committee hearing, but it came at about the same time that Republican U.S. Sen. Rand Paul of Kentucky filibustered for 13 hours on the Senate floor, demanding U.S. Attorney General Eric Holder provide assurances that drones would not be used to target U.S. citizens.
And just last week, news reports circulated that the tiny town of Deer Creek, Colo., is considering an ordinance to issue hunting licenses and offer bounties for people to shoot down drones.
But Melanie Hinton, spokeswoman for the Association for Unmanned Vehicle Systems International, said the industry is optimistic that farmers and ranchers eventually will embrace the technology.
"That's one of the reasons we've been working with people at K-State," Hinton said. "To show people we're talking about small, unmanned systems. These systems are so small, even a differential in paint can affect how they fly. Our job, and the industry's job, is to show how these systems are going to be used."
According to a recent economic analysis conducted by the Arlington, Va.-based trade association, agribusiness is expected to account for 80 percent of the civilian market for UAS vehicles, with law enforcement and the oil and gas industries accounting for much of the remainder.
In Kansas, that study estimates the UAS industry could create as many as 3,716 new jobs, mainly with aircraft manufacturers, with a total economic impact of $2.9 billion by 2025.
Beating swords into plowshares
Unmanned aircraft systems are just the latest in a long line of technological innovations that have made their way into the commercial market after first being developed for military uses.
Just as World War II produced the Jeep, the Korean War helped give rise to helicopters and Operation Desert Storm popularized the Humvee, drone technology may become one of the lasting legacies of the wars in Iraq and Afghanistan, industry officials say.
"It came at a time when the (Department of Defense) began shifting its thinking from large-army conflict to more rapid response," AeroVirnment's Gitlin said.
"We first developed what we believe was the first hand-launched UAS in the 1980s for reconnaissance," he said. "And while we certainly envisioned that DOD and the government would be among the first segments of the market, we also anticipated broad applicability outside government."
Finding ways to develop those non-military applications is a main focus of research at K-State's Unmanned Aircraft Systems program, which operates at the university's Salina campus.
"There are dozens of specific applications," said Mark Blanks, who was named to head the program in January. "In general, it's monitoring crop health and determining where there are trouble spots, as well as estimating yields to a higher degree of accuracy."
"So if you have a large, 100-acre cornfield and there's no way to get out there in the middle of it, and there's no way to get out there in a lot of cases, this unmanned aircraft — with a total cost to the owner of less than $5,000 on the aircraft side — can go out and fly and get a good overview of the field, and that'll let you know if there are any general trouble spots," Blanks said.
Regulating drones
Before the civilian UAS industry can get off the ground, officials say, the Federal Aviation Administration will have to change regulations that currently ban the use of unmanned aviation systems for commercial use.
Last year, however, Congress passed legislation calling on the FAA to make way for unmanned vehicles in the national airspace by September 2015. The bill also calls on the agency to establish six test sites around the country for testing and development of new vehicles.
Blanks said K-State is a partner with several other entities in an application to become one of those test sites.
Copyright 2018 The Lawrence Journal-World. All rights reserved. This material may not be published, broadcast, rewritten or redistributed. We strive to uphold our values for every story published.