When Heidi Burke sets her mind on something, nothing's going to stand in her way.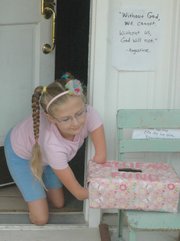 So when the 9-year-old Shawnee girl recently launched an epic fundraiser ­— needing almost $9,000 in less than a week ­— there was no doubt she'd somehow make it happen.
Heidi turned to PayPal and the kindness of family, friends and Internet strangers to help her spring a life-changing surprise on her friend Ellie May Challis, who lives in Essex, England. Heidi was hoping to pay the way for Ellie May and her family to visit America.
Heidi and Ellie May had never met in person. They know each other only through the video chat service Skype and occasional letters and emails. But they share a powerful bond.
"We both are 9," Heidi says. "We both have blond hair, we both have about the same color of eyes, and we're both about as tall as each other.
"And we both do not have hands or legs."
Heidi is a quadrilateral congenital amputee ­— she was born that way. Ellie May, meanwhile, lost her hands and lower legs to bacterial meningitis when she was a toddler. They're part of an extremely rare group of children who have overcome unusual physical circumstances to live complete, amazing lives.
I-CAN experience
And that's why it's so important for them to be able to be together in person, says Dawn Burke, Heidi's mom, who recalls the first time she entered the International Child Amputee Network convention carrying Heidi, who then was just 3 months old.
"We walked in holding this little girl, and we didn't know what we were going to encounter," Dawn explains. "We walked into the ballroom and a little boy with no arms and no legs shuffled up to us and took our picture, and I thought, Whoa!"
Heidi is too young to remember that first I-CAN experience, but for Dawn, a former English teacher who quit her job after Heidi was born, it was a revelation.
"It was so welcoming, so warm," says Dawn, wiping away a tear. "Everyone was saying, 'Heidi's here! Heidi's here!' Everyone wanted to hold her."
At the family's home on 69th Terrace, it's now Heidi who's doing the holding. She hops up on the couch and gives Dawn a big bear hug as they count down to the $9,000 goal. Only a few hours and a few hundred dollars to go.
Mom looks a little nervous, but Heidi's smiling, recounting past years at I-CAN.
"It's very, very fun to be there together" with kids like her, Heidi says ­­— playing cards, swimming, dancing and just hanging out. One night of the convention, they all go out for a big dinner, 30 to 40 amputees and their families, and for once they're not the ones being stared at.
"Instead of having to hide behind people," Heidi says, giggling, "you get to show it off because you're like them."
This year's convention, in Baltimore, began Wednesday and ends today.
And Heidi was getting her chance to meet Ellie May, having met her fundraising goal.
"We just called the Challis family and screamed into the phone to each other," Dawn says, just hours after the PayPal fundraiser closed July 8. "The British are coming!"
Many miracles
For the Burkes, it was a palpable miracle moment. But miracles are something that seem to follow Heidi wherever she goes.
After her first visit to I-CAN, the family was struggling to afford a return trip. Because participants pay their own way and the conference moves between the East and West Coasts each year, travel bills are steep. Dawn wasn't sure when Heidi, almost a year old, would get to repeat that transformational experience.
Then came a surprise.
"A bunch of friends got together for her first birthday," Dawn recalls, "and presented us with money so we could go."
When she was 2, Heidi wanted to play in the Burkes' backyard with her older sisters, but a splintery deck stood in her way.
"Before she could stand and walk, she had to scoot herself around," Dawn explains.
Then, another intervention: A group of more than 20 Shawnee residents and volunteers surprised the family by installing soft turf on the deck and donating a gazebo where Heidi could relax in the shade.
And when Heidi, who is home-schooled four days a week, was ready to enter kindergarten, Midland Adventist Academy on Maurer Road opened its doors. This fall, she'll enter the third grade.
"They've just been so, so wonderful," Dawn says.
Heidi says she's eager to reunite with her Midland classmates next month, share what she's learned and find out how they spent their summers. But the excitement in her voice betrays that spending time with kids like Ellie May blows all that away.
"Her favorite color is blue," Heidi says. "She likes to carry around purses and wear dresses. We both really, really like sparkles!"
For Dawn, whose feelings are the same, the terms of attending I-CAN are a little different.
"When you walk in, you don't know you're hurting," she says, "but when you leave you've been healed."
Copyright 2018 The Lawrence Journal-World. All rights reserved. This material may not be published, broadcast, rewritten or redistributed. We strive to uphold our values for every story published.