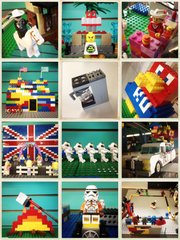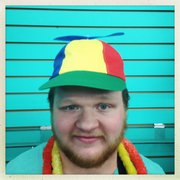 Jhami Guffey says he has the "best job ever." Every day at work, The Toy Store's manager watches children's imaginations spark as they frolic through his downtown shop.
And for the past two weeks, Guffey said he has also been able to see his little customers' creativity come to fruition during The Toy Store's third annual Lego contest.
Voting Ends Tomorrow
Tomorrow is the final day to vote for your favorite Lego creation at The Toy Store, 936 Massachusetts St. First- and second-place winners in each of the four age-group categories will be announced Monday.
Miniature buildings, dinosaurs, monsters, a Barbie dream house, plastic bad guys tearing each other apart, scenes from "Star Wars" and "Batman," a Wild West show (complete with Annie Oakley), even a big blue robot—all are on display in the store's big windows, all made of Legos.
"What's amazing is the kids' thought processes it took to design some of these," Guffey said as he admired the entries. "I've seen people out here at 11 o'clock at night looking at the display."
More than 200 Lawrence-area kids and adults have spent hours snapping together countless tiny blocks to build and enter their masterpieces in this year's competition. Since July 5, community members have been admiring the Lego creations in the store's front window and voting for their favorites inside.
While strolling along Massachusetts Street, Chris McCollough's eyes lit up like a child's when she stopped to admire The Toy Store's display. Visiting her daughter in Lawrence, the Lincoln, Neb., resident said there was nothing like this back home.
"We have Target, Walmart and Toys R Us," McCollough said, "so I think it is really special (The Toy Store) puts on something like this and engages everyone."
That community spirit is even seen in a few of the entries. The display shelves hold a Lego Central Middle School; a Kansas Jayhawk (of course); Corpus Christi Church, complete with a tiny tabernacle and Lego-man choir; and a tiny version of a "future Art Car parade."
The Toy Store is owned by the same family that started the company more than 30 years ago. Guffey, who is the nephew of the store's owner, Margaret Warner, said the reason the competition works is because of Lawrence's strong community feeling.
"I think Lawrence's sense of wanting to help each other and come together is more powerful here than it is in most cities," Guffey said. "We hope we are giving back to the community who gave so much to us."
First-place winners in each age group receive a $30 store gift card and a trophy: a shiny golden Lego piece mounted atop a blue wooden block.
Guffey said that while the little treasure may not look like much to adult eyes, he can picture the delight young champions will feel when they take home their prizes.
"The kid part of me imagines them hanging it up in their room," Guffey said. "That is what I would have done."
Seven-year old Joel Freed did not enter the contest this year, but he does know a thing or two about Lego-building. While eyeing a miniature samurai in the store window, he boasted about his skills.
"I could put together something like that," Freed said. "It looks just like a real one, but it's made of Legos."
Copyright 2017 The Lawrence Journal-World. All rights reserved. This material may not be published, broadcast, rewritten or redistributed. We strive to uphold our values for every story published.