Photo Gallery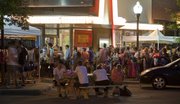 Downtown Sidewalk Sale 2013
Shoppers were out early and in large numbers for the annual Downtown Lawrence Sidewalk Sale Thursday, July 18, 2013.
Store owners and employees began to break down tents and move off the sidewalks and back inside Thursday evening as a few people scanned through the remaining merchandise left on tables. Every so often, another surge of shoppers would find their way to Massachusetts Street, searching for last-minute, heavily discounted items before the sun officially set on the 54th annual Downtown Lawrence Sidewalk Sale.
Sally Zogry, the new director of Downtown Lawrence Inc., helped to organize the sidewalk sale for the first time this year. She walked up and down Massachusetts from Seventh to Eleventh streets several times during the day, visiting with business owners about their progress.
All in all, she said, things went smoothly.
"I heard everybody had a great sale," Zogry said. "From the comments I've gotten, it seems like the traffic patterns were different this year; there was a more steady flow of customers."
Before noon Thursday, Gene Nutt, owner of Game Nut, said he could already predict that sales would be improved from last year.
"We've had some ups and downs in the past seven years we've been doing this, but we seem to be on pace with the best of them right now," Nutt said.
Zogry and Cathy Hamilton, the outgoing director of Downtown Lawrence Inc., speculated that the steady flow of customers could be due to the cooler temperatures. Last year, Zogry said, it reached 105 degrees.
On Thursday, the temperature inched up to 97, according to the National Weather Service. And though it may have been a bit cooler than last year, shoppers and store owners were still feeling the heat.
As the sun rose higher in the sky, slight relief was found at The Salvation Army cooling station, in child-sized pools, with free fans distributed by the Lawrence Public Library and in the area surrounding the makeshift air conditioner (an industrial-sized fan and large blocks of ice) near Hobbs, 700 Massachusetts St.
After 11 years of participating in Lawrence's sidewalk sale, Ryan Owens, general manager of Jock's Nitch Hawk Zone, said he has learned what to expect.
"Just mark it down right now: The third Thursday in July will always be the hottest day of the summer," Owens said.
Some customers avoided the heat by arriving downtown in the early morning.
Eager crowds formed in front of several Massachusetts Street stores as early as 4:30 a.m., well before businesses opened.
Hailey Lapin, 21, was part of the flock of early buyers at Urban Outfitters. With her heart set on a $70 dress she's had her eye on all semester, she arrived at 4:45 a.m.
But when the floodgates opened at 5 a.m. sharp, Lapin says the store turned into a jungle.
"As soon as they opened the doors, it was like a pack of hyenas attacking the sales racks," Lapin said. "I was not aggressive enough for that."
Still, Lapin said it was worth the wait; she benefited from the store's 5 a.m. to 10 a.m. 50 percent off already-marked-down items.
Zogry said she first took notice of the large crowds at 5:45 a.m.
"It was packed. There were just mobs of people," Zogry said. "There was a line a block long at Urban Outfitters before 6 a.m."
Zogry sat at the Downtown Lawrence Inc. booth for much of the day, greeting people who stopped by to say their farewells to Hamilton. After speaking with store owners for the last time around 6 p.m., she estimated that more than 10,000 people had been downtown for the sale.
Most importantly, she said, everybody seemed happy. This was true of Jennifer Sievers, owner of Arizona Trading Co., who had spent the day handing out stickers, candy and grab bags.
"It's a fun day for us," Sievers said. "And a really crazy, busy day, too."
Copyright 2018 The Lawrence Journal-World. All rights reserved. This material may not be published, broadcast, rewritten or redistributed. We strive to uphold our values for every story published.