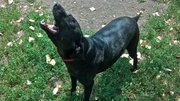 From the looks of her wide grin and silky black coat, you would not think Gabby, a labrador retriever, had been through such a traumatic experience.
Police brought the dog to the Lawrence Humane Society after her owner, Dwight Sexton, 49, of Lawrence, was found dead in the Kansas River about 10 a.m. Wednesday morning.
Sexton and Gabby were well-known around town. The two palled about and made friends walking throughout Lawrence.
A relative of Sexton's said Gabby is a service dog. Several people who knew Sexton say Gabby was trained to detect seizures, but her greatest job was serving as a good friend.
In a 2010 WellCommons article, Sexton, then 46, said he had been diagnosed with psychotic paranoia, post-traumatic syndrome, bipolar disorder and social anxiety at the Bert Nash Community Mental Health Center.
Sexton was known to downtown Lawrence employees and shoppers because he and Gabby could be found on the 800 block of Massachusetts Street two or three days a week, between the Ernst and Son hardware store and the Lawrence Antique Mall.
"Dwight used to sit out there most days," said Jake Elder, a sales associate at Ernst and Son. "He started showing up this year."
Humane Society client care associate Rachel Guyer says man and dog were inseparable right to the end: Gabby never left Sexton's side at the river.
"The officer said she was just kind of there, watching," Guyer said.
The Humane Society guesses that Gabby is about 3 years and 8 months old. She soon will have a permanent home, when Sexton's son Brent comes from Colorado to adopt the dog.
"She gets to stay in the the family," Humane Society executive director Dori Villalon said, "so I hope that will be a comfort for them."
Villalon says dogs belonging to homeless owners often are the most adaptable and well-mannered.
"When I worked in San Francisco, I noticed many dogs with transient owners were much better behaved because they are more socialized," Villalon said. "Gabby was well cared-for."
The cause of Sexton's death is not yet known. An autopsy was held Thursday, according to Lt. Steve Lewis, a sheriff's office spokesman, and results are expected in a few days. Investigators from the Douglas County Sheriff's Office, which has jurisdiction over the river, said a preliminary investigation showed no evidence of foul play.
Sexton originally was from Atchison, where family members said they are planning to hold memorial services for him.
Copyright 2018 The Lawrence Journal-World. All rights reserved. This material may not be published, broadcast, rewritten or redistributed. We strive to uphold our values for every story published.