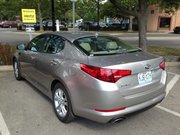 Thanks to a new car-sharing program in downtown Lawrence, residents now have a new option for getting around without using their own vehicle.
The silver Kia Optima now stationed in the city parking lot on the west side of New Hampshire Street near Eighth Street is available for any resident to reserve and drive at an hourly rate, through a program run by the Hertz car rental company.
"It's a pretty neat system," said Eileen Horn, the city-county sustainability coordinator. The car is available as of today, she said.
The city brought the car downtown with the cooperation of Kansas University. KU has already had four Hertz On Demand cars on campus since January 2012: two near the Kansas Union and two near the residence halls on Daisy Hill.
Another car in Lawrence is located at the Grove Apartments complex at 4301 W. 24th Place.
All the city has to provide for the program, Horn said, is one parking spot, which is now marked by a Hertz On Demand sign. Hertz owns and controls the car.
Use of the car requires a membership, which people can sign up for at hertzondemand.com for free. Residents can reserve the cars online, and they use a small key fob device, delivered through the mail, to access the car.
"Car-sharing and bike-sharing programs have been really effective in larger cities," Horn said, "and although we're not a large city, we do have some of those components."
For instance, she said, the city has a concentrated number of people near downtown, including a lot of college students.
She said she hopes the service might appeal to riders of the city's transit system who get off downtown, KU students or perhaps people who commute downtown by biking or walking but would like a car nearby for occasional use.
Horn said the system is in a pilot stage for now, and more cars may be provided if residents use the service.
At KU, about 575 members have signed up to use the Hertz cars. That's in line with the company's target for the program, said Margretta de Vries of KU Parking and Transit.
The rate, de Vries said, is roughly $8 per hour plus tax, though it can vary.
The goal for the city, Horn said, is to reduce emissions by encouraging residents to get around without using their own vehicles.
Copyright 2018 The Lawrence Journal-World. All rights reserved. This material may not be published, broadcast, rewritten or redistributed. We strive to uphold our values for every story published.