Photo Gallery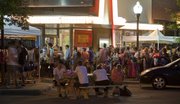 Downtown Sidewalk Sale 2013
Shoppers were out early and in large numbers for the annual Downtown Lawrence Sidewalk Sale Thursday, July 18, 2013.
Get in on the action
Stay up to date with what Lawrencians are buying on our Storify! Submit your tweets, Facebook posts, Instagram pictures and more by tagging them with #swsale.
4 p.m. update
Crowds of people strode up and down Massachusetts Street on Thursday afternoon as temperatures inched up to 97 degrees, according to the National Weather Service.
While some shoppers woke for early morning bargains and others waited for the increased discounts near sunset, hundreds shopped in the heat of the day, with little escape from the sunshine.
The Salvation Army set up a cooling station near the corner of Ninth and Massachusetts streets, and people enjoyed the cool spray of a water mister near the Downtown Lawrence Inc. table in the 800 block of Massachusetts.
The Lawrence Public Library handed out free cups of water, and several stores sold refreshments like Gatorade, tea, limeades and soda.
Storeowners found inventive ways to find respite from the heat, too. Employees of Hobbs, 700 Massachusetts St., set up a makeshift air-conditioner. They used an industrial sized fan and large blocks of ice to blow cool air into the surrounding area.
An employee of the Wonder Fair, 803 ½ Massachusetts St., filled a child-sized pool with cold water and soaked her feet while watching customers outside of the store.
11:30 a.m. update
Weaver's sales associate Lauren Coleman sells discounted towels at a table on the corner of the shop at Ninth and Massachusetts streets. She started her shift at 6:15 a.m. this morning and will stay until 9 p.m., but Coleman says, though the day will be long, she was looking forward to the sidewalk sale festivities.
"I just love to be outside," Coleman said. "Personally, I was really excited for today."
Her tune might change as the day gets hotter. As the sun rises higher in the sky, a group of Coleman's coworkers cool themselves with free fans from the Lawrence Public Library. Squinting through the sunlight, sales associate Becky Gladman says she is grateful Weaver's is on the west side of Massachusetts Street.
"We will only be in the sun for a little while on our side," Gladman said. "We could be across the street where it is 5 p.m. and still sunny."
After 11 years experience participating in Lawrence's annual sidewalk sale, Ryan Owens, general manager of Jock's Nitch Hawk Zone, says he knows to expect the heat.
"It seems like every year the sidewalk sale day gets hotter," Owens said. "Just mark it down right now, the third Thursday in July will always be the hottest day of the summer."
Gene Nutt, owner of Game Nut, stepped under a tent in front of his store at 844 Massachusetts St. for some shade at about 10 a.m. after carrying boxes of DVDs to replenish the tables.
Nutt and his employees began assembling the tents and putting out DVDs, CDs and games at 4:30 a.m. Thursday. Nutt said he had a hard time setting up because of the people already digging into the merchandise.
Just after 10 a.m., the store had been open for more than five hours, enough time for Nutt to determine that sales would exceed last year's.
"We're on pace to beat last year," he said. "We've had some ups and downs in the seven years we've been doing this, but we seem to be on pace with the best of them right now."
At 10:30 a.m., Jennifer Sievers, owner of Arizona Trading Company, 736 Massachusetts St., said she also predicted that sales would be improved from previous years. Her sale is inside, providing relief for the people walking through the store this morning.
"There's been a steady stream of people, and sometimes it's really crazy," Sievers said. "Sales wise, it's been fantastic. We'll sell out of sunglasses today, no question."
Sievers walked around handing out coupons as customers rifled through the 50 percent off racks at the front of the store. She said when the crowd wanes at about 3 p.m. she would begin ramping up the discounts.
Lisa Stockton, co-owner of The Raven Book Store, 8 E. 7th St., watched over her table of discounted books, cards and calendars in front of Liberty Hall late Thursday morning. Stockton said that the Sidewalk Sale, more than anything, acts as a marketing tool, providing an opportunity to let Lawrence residents know what and where the store is.
"The most important thing is we're out here and talking to the good folks of Lawrence," Stockton said. "It's sort of an outreach."
Located on the northernmost block of Massachusetts Street, Stockton said there seemed to be less foot traffic than usual.
"It seems a bit slower, but we're not complaining. We're moving a lot of mystery books and making a lot of people happy," she said. "That's what we're in business to do. And the day is still young."
8 a.m.
The early bird gets the worm -- and at the Lawrence sidewalk sale, the early shopper gets the best deal.
Eager crowds formed in front of several Massachusetts Street stores this morning as early as 4:30 a.m., well before businesses opened.
Channing Smith and sisters Brynlee and Kameron Robbins starting waiting outside for.tu.ity an hour before the store's opening at 6 a.m. They decided to scope out the deals at the trendy boutique before their shopping competition arrived.
"We got here at 5 a.m.," Smith said. "I went to the Gap already but I'm excited for this."
Hailey Lapin, 21, was part of the flock of early buyers at Urban Outfitters this morning. With her heart set on a $70 dress she's had her eye on all semester, she arrived at Urban at about 4:45 a.m.
But when the flood gates opened at 5 a.m. sharp, Lapin says the store turned into a wild jungle.
"As soon as they opened the doors, it was like pack of hyenas attacking the sales racks," Lapin said. "I was not aggressive enough for that."
Still, Lapin said it was worth the wait; she benefited from Urban's 5 a.m. to 10 a.m. 50 percent off already-marked-down items. She took home two solid shirts (originally $35 each) for $10, a pair of Tom's shoes (originally $50) for $20 and, of course, the dress she so desired for just $15.
Morgan Cox, 20, agreed the early shopping experience was wild. She says there were so many hands searching through the rows of hangars, if you wanted something, you had to grab it -- fast.
"I put a shirt down for literally 30 seconds to think about it," Cox said. "But when I went back, it was already gone."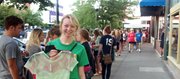 By the time she selected a few more items and tried them on, the checkout line had stretched nearly a block long.
From the end of the line and with no sight of the register, Cox was contemplating bribing someone ahead of her for that spot in line. Still, Cox says she can put up with the chaos for the cheap bargains.
"I do not buy from Urban unless it is on sale, so I think it is worth it." Cox said, "I do need a huge water and a Dr. Pepper now, though."
After Lapin checked out, she needed a refreshment, too.
"I wish Shots (the bar) had a lemonade stand across the street," Lapin said. "That would be perfect right now."
While there is no lemonade stand up (yet,) there are water stands sprinkled throughout Massachusetts Street, as the hunt for the best deals continues.
Copyright 2018 The Lawrence Journal-World. All rights reserved. This material may not be published, broadcast, rewritten or redistributed. We strive to uphold our values for every story published.