The deck overlooking Alvamar public's 18th green offers a nice view and is far enough from the golfers that whispers are not required.
Photo Gallery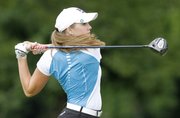 City golf tournament
The city golf tournament kicked off Saturday, July 13, 2013 at Alvamar Golf Course. The final round will be played Sunday at the Lawrence Country Club course.
As golfers in one of the final foursomes of the men's championship flight of the annual Lawrence Amateur Golf Association city tournament made their way to the green, one spectator asked another, "Who's that guy pushing the buggy?"
Nobody on the deck knew the identity of the stealth contender. Now everybody with an interest in the tournament knows his name is Steve Randall and his game is rock solid.
Randall, 46 and a resident of Lawrence since 2006, when he moved here to take a job with the Golf Course Superintendents Association of America, fired a 70 Saturday, the first day of the two-day event that concludes today at Lawrence Country Club. He trails leader Tyler Cummins by three strokes.
Randall, whose name was nowhere on my list of eight contenders to watch, stood out from most others in the championship flight in that he walked, pushing a three-wheel cart, didn't blast his drives 290 yards and was not undermined by a blow-up hole. His 2.6 handicap index, while outstanding for a weekend golfer, also was higher than many in the field. Randall's week got off to a strong start when he played well and qualified for the Kansas Amateur. Randall is a baton carrier of a long-standing Alvamar tradition known as the Wet Shoes. The modern-day Wet Shoes also include Scot Buxton, Stew Platz, Mike Scott and Dick Stuntz.
"We're walkers," Randall said. "We're out first time in the morning down below, so we're cleaning the dew off for everybody."
On Sundays, Randall plays with wife Kathy and their son Jack, 6. When Jack was just an infant, they would push him in a stroller and carry their bags.
Randall grew up in Wahpeton, N.D., playing at Bois de Sioux Golf Course.
"Nine holes are in North Dakota, the back nine are in Breckenridge, Minn. Only 18-hole golf course in the country with nines in two states," Randall said with smile that revealed a healthy measure of pride in his hometown.
The man who grew up playing golf in two states and one course brought two states of mind with him to the course Saturday: Confident and relaxed.
"Like I was telling my wife at breakfast, I wanted to play a good, competitive round, kind of treat it like I'm playing in the Wet Shoes group, have a good time," Randall said. "I'm going to keep the same frame of mind I had (Saturday)."
Randall cited his short game as his greatest strength. That and a hot putter enabled him to get through the round with just 29 putts.
"I thought Kent Morgison did a good job today at Alvamar," Randall said of Alvamar's superintendent. "And I know (LCC superintendent) Bill Irving and his crew, they're going to have it firm and fast. They're going to have it in good shape."
The tournament still has its glitches. Unlike most big events at Alvamar, the scoreboard behind 18 was not used to post scores so that the golfers could see where they stood in their flights. There was no starter. No marshals were on hand to speed up play, and at one point there was a five-hole gap between two groups. The 19 non-championship flight men's golfers were not split into flights of 10 and nine golfers, rather into a 14- man first flight and five-man second flight. Strange.
Despite that, the tourney had interesting sub-plots, foremost being the emergence of a stealth contender who needs only to put together two strong nine holes — and in just one state, which ought to seem like an easy task for a guy with his background — to stay in the hunt.
Copyright 2018 The Lawrence Journal-World. All rights reserved. This material may not be published, broadcast, rewritten or redistributed. We strive to uphold our values for every story published.