James Bowen is a certified hero, and he can prove it.
No, the Kansas University doctoral candidate and Navy Reserve officer does not have an "S" on his chest, but he does have a 6-inch golden medal given to him in 2012 by the Carnegie Hero Fund Commission.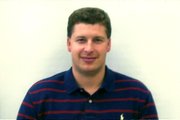 Established in 1904 to commend those who "perform extraordinary acts of heroism in civilian life," the Carnegie Hero Fund recognizes the incredible feats of ordinary citizens nationwide. Last year, Bowen, currently serving as a submarine line officer with the U.S. Navy in Afghanistan, was awarded the honor for his lifesaving act in Ames, Iowa, three years ago.
One day in August 2010 Bowen, then a 32-year old graduate student at Iowa State University, was bound to get to class in spite of flooded streets caused by four days of torrential thunderstorms.
He typically walked to campus, but South Skunk River and Squaw Creek, which divide Ames in thirds, had flooded the streets and the currents were too difficult. Drenched, Bowen decided to forgo the eco-friendly pedestrian commute and slinked into his car.
After trying several different routes, Bowen was able to cross South Skunk River. As he glanced at his rearview mirror, he saw the bridge covered over with water.
And then he saw something that would change his life: a car floating in a flooded field about 100 yards from the road.
He pulled over to join two drivers watching in horror. They told Bowen a woman was in the car and they had called emergency services. But when Bowen saw the current pushing the bobbing vehicle further away, he knew there was no time to wait.
"I was scared to make it worse with two people out there instead of one," Bowen said. "But I thought, 'this is not going to end well,' so I threw my watch, wallet and shirt in my car and ran into the water."
The water came up to Bowen's neck. When he reached the desperate driver, Alice Ahlers, 68, she was still buckled into her seat with water up to her waist. At that point, Bowen says he began to have second thoughts.
"I wondered if it would be better if she stayed in the car until responders arrived," Bowen said. "But the car began to settle and sink, so I had to act."
He told Ahlers to take off her seatbelt and hold the latch open and he plunged beneath the water to grab the door handle from the other side. With the powerful current pushing against the door, he braced his feet on the side of the car and pulled with all his might.
The door creaked open and water rushed in. Instantly, Ahlers, who could not swim, was submerged to her chin. Bowen took her in his arms and lifted her above the surface.
Turning toward the roadway, Bowen said, he was struggling to keep his footing as he saw emergency responders arrive.
"I took a few hard-fought steps, but the water got deeper," Bowen said. "The sheriff deputy shouted, 'don't do it.'"
Stranded and without a choice, Bowen had to find another way across.
"I told Alice, 'OK, we're going to swim across this," Bowen said. "'I am going to hold your head up.'"
Swimming for two back to the roadway, Bowen said the skills he learned as a child on the Missouri River helped guide them to safety.
"I have always been strong underwater," Bowen said. "Not at Olympic caliber, but I can stay afloat as long as anyone."
Unable to touch the bottom, Bowen's buoyancy was necessary. The rushing waters Bowen described as a "brute force" made the route to safety difficult.
When they reached the street, which was still under about two feet of water, Bowen stood in front of Ahlers to take the brunt of the current. He took both her hands and walked backward to the ambulance, where both, miraculously, only needed minor treatment for a few cuts and scrapes.
Bowen and Ahlers have only spoken once since, about 11 days after the rescue. But three years later, Bowen remembers that day with humility and grace.
"I am very thankful that I did what I think was the right thing and was able to save her," Bowen said. "I learned something about myself in the process.
If Bowen "thinks" he made the correct decision, judges at the Carnegie Hero Fund know he did. The list of Hero Fund winners was announced while Bowen was away on spring break, so the commission's email and phone calls notifying him of his selection went unanswered. Bowen said it was not until his mother read the list published in The Washington Post that he found out about the award.
"To be honest, before I was nominated I did not even know the award existed," Bowen said. "Then after I looked up what other winners had done, I thought, 'No way, me?' "
For now, the medal, inscribed with a synopsis of his efforts, waits patiently for Bowen to come back home.
He hopes return to Lawrence in the spring to finish his Ph.D. in physics at KU.
Copyright 2018 The Lawrence Journal-World. All rights reserved. This material may not be published, broadcast, rewritten or redistributed. We strive to uphold our values for every story published.