Tyler Cummins has reached a point in his life where he simply doesn't spend as much time playing golf as he used to.
Photo Gallery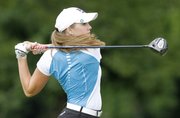 City golf tournament
The city golf tournament kicked off Saturday, July 13, 2013 at Alvamar Golf Course. The final round will be played Sunday at the Lawrence Country Club course.
His job as director of member services and junior golf for the Kansas Golf Association and the desire to spend more time with his wife Dana and their young daughter led the former Kansas State University golfer to play sparingly.
Unfortunately for the rest of the championship flight at the Lawrence Amateur Golf Association city championship, Cummins had some free time to spend at Alvamar Golf Course Saturday. Admittedly exceeding his expectations while playing only his "sixth or seventh" round this year, Cummins shot 67 on the public course to take a comfortable three-stroke lead over Steve Randall (70) into the final 18 holes today at Lawrence Country Club.
It helped, Cummins said, that he played in the final group with three of his golfing buddies: William Gantz (third place, 73), Kit Grove (tied for fifth with Ryley Haas and Mason Dick, 76) and Conrad Roberts (ninth, 80).
"For me," Cummins said, "it was like we were out playing on any regular weekend."
Because he had golfed so seldom of late, Cummins expected his putting and short game to disappear on him. Instead, after three-putting hole No. 1, he got going on No. 3 with a birdie putt from more than 15 feet out that he "rammed" into the back of the hole.
"It turned into, pretty much anything from 10 feet and in was good," Cummins said.
Another birdie on the course's most difficult hole, the par-4 6th, set him up to take the lead: "Once you get to (No.) 8, that's where you can really score." He birdied Nos. 8, 10 and 11 on the way to a 5-under round after finishing 14th at the LAGA event in 2012.
As Cummins kept following accurate approach shots by rolling in long putts, Gantz said the rest of the group tried not to feel envious or fall too far off his pace.
"We've all been there," said Gantz, who finished third at the city championship last summer. "But you also consider, 'How far are you playing back here? You're kind of playing yourself out of this.' You try not to press too much, though. You try to just let things happen, but you're aware of where he's at."
Former Kansas University golf coach Grove said Cummins put some distance between himself and the rest of the field by taking command with his putter. Few could duplicate that success.
"The greens are hard to read out here," Grove said. "You hit a lot of putts that don't break or go off and you think, 'What was I looking at?' It helps if you can get it in close."
Michael Rack, in fourth place with a 75, thought heading into the 18th he could end up close to the first-round leader. Rack, runner-up to Roberts in 2012, had played 1-over golf through 17 holes before pulling his tee shot into the water hazard on the final hole. He likened his round-ending double bogey to spitting up on himself.
"Golfers have to have short memories," Rack said. "You just have to forget it. Can't do anything about it, so you have to come back tomorrow and tee it up again."
Roberts, the LAGA's defending champion and winner of six of the last seven titles, spent so much time in his own head, he didn't even realize how well Cummins played.
"My game was so bad today," he added, after shooting 8-over. "I was in the woods and I was usually 50 yards away from any one of the other three guys."
That didn't mean the leader's 67 surprised Roberts, though. He said Cummins owns the ability to score that low any time, even if he hasn't played much lately.
"Golf is a weird game," Roberts said. "You can play it often and you end up playing worse, because you're repeating bad habits."
Other flights
KU senior golfer Meghan Potee leads the six-player women's field at 71, six strokes ahead of Kelli Loudabarger.
In the senior championship flight, Van Reichert (75) created a five-stroke lead over his closest of six competitors, Mike Beaton. Carl Ricketts shot 78 to lead the senior first flight and put him six strokes ahead of Mike Grammar.
Darrell Frank's 77 secured the top spot of the men's first flight, four strokes in front of second-place Hunter Dedloff.
Galen Smith (78) and Chris Davis (79) were the only members of the super senior championship flight. In the super senior first flight, Mike Hertling and Norm Slade tied for first, shooting 80.
---
2013 LAGA City Championship Results
Round 1 — Saturday at Alvamar Public Golf Course
Par 72
Women (forward tees)
1. Meghan Potee, 71; 2. Kelli Loudabarger, 77; 3. Jennifer Stammeyer, 80; tie-4. Catherine Shenoy, 92; tie-4. Anna Wright, 92; 6. Karen Campbell, 103.
Men
Championship flight (black tees)
1. Tyler Cummins, 67; 2. Steve Randall, 70; 3. William Gantz, 73; 4. Michael Rack, 75; tie-5. Kit Grove, 76; tie-5. Ryley Haas, 76; tie-5. Mason Dick, 76; 8. Greg Sharp, 77; 9. Conrad Roberts, 80; tie-10. Seth McCauley, 81; tie-10. Spencer Scott, 81; tie-12. John Catlin, 84; tie-12. John Tacha, 84; tie-12. Matt Grammer, 84; 15. Brett Van Blaricum, 88; 16. Chuck Junge, 89.
First flight (green tees)
1. Darrell Frank, 77; 2. Hunter Dedloff, 81; tie-3. Kenneth Farrar, 84; tie-3. Terry Campbell, 84; tie-5. Shannon Ross, 85; tie-5. Jack Flynn, 85; tie-7. Jack Junge, 86; tie-7. Mike Whaley, 86; tie-9. Kenton Riley, 87; tie-9. Maurice Monteau, 87; 11. Christopher Hanna, 89; 12. Bill Wagner, 92; 13. Mike Martin, 94; 14. Garry Fister, 95.
Second flight (white tees)
1. Tom Keegan, 81; 2. Michael Farve, 96; 3. Chad Scarlett, 101; 4. Caleb Palmer, 116; 5. Tony Ware, 130.
Senior championship flight (green tees)
1. Van Reichert, 75; 2. Mike Beaton, 80; 3. Jim Stansell, 81; 4. Cal Froberg, 82; 5. Greg Wyatt, 82; 6. Brad Mullenix, 85; 7. David Davison, 86.
Senior first flight (white tees)
1. Carl Ricketts, 78; 2. Mike Grammer, 84; 3. Eric Vernberg, 89; 4. Rick Drake, 90; 5. Ronald Hutchens, 91.
Super senior championship flight (white tees)
1. Galen Smith, 78; 2. Chris Davis, 79.
Super senior first flight (white tees)
Tie-1. Mike Hertling, 80; tie-1. Norm Slade, 80; 3. David Lerner, 85; tie-4. Dennis Novacek, 86; tie-4. Bob McTernan, 86; 6. Bob Trepinski, 89; 7. Dave Greenamyre, 90; 8. Kevin O'Crowley, 93.
Copyright 2018 The Lawrence Journal-World. All rights reserved. This material may not be published, broadcast, rewritten or redistributed. We strive to uphold our values for every story published.