Photo Gallery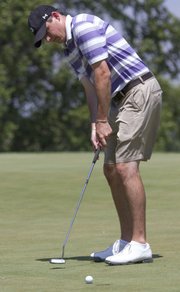 City Golf Championship Day Two
Because he hadn't been playing golf regularly of late, Tyler Cummins figured he needed to get some competitive rounds in before he took a crack at the Kansas Amateur Match Play Championship next week.
Playing in the Lawrence Amateur Golf Association's city championship this weekend seemed as good a way as any. And though Cummins just hoped for a warm-up, he instead caught fire. His round of 74 Sunday at Lawrence Country Club allowed the former Kansas State University golfer to win the LAGA title by eight strokes, with a two-day total of 141. William Gantz and Kit Grove tied for second (149), and Ryley Haas placed fourth (151).
Cummins entered the second round of the tournament with a 3-stroke lead on Steve Randall, who eventually finished tied for fifth place (152) with Michael Rack. But even a birdie on hole No. 1 Sunday morning didn't put Cummins in the clear. He described his putting as "OK" and said he didn't feel confident in his swing.
"I was punching out of the trees a little bit early on," Cummins shared. "I have to thank Michael Rack for finding my ball on (No.) 5, in the tall stuff, left. Fortunately enough, I escaped one there."
The real turning point came on No. 7, a long, downhill par-3, with a water hazard on the right and out-of-bounds to the left. The final group of Cummins, Gantz, Rack and Randall found tournament traffic snarled at the seventh hole, where nearly every golfer seemed baffled by the difficult layout.
"You're thinking about everything but hitting the green on that shot," Cummins said. "You're thinking about all the bad things."
Added Gantz: "We watched three groups tee off there, and nobody was even close to hitting the green."
But Cummins stepped up and landed his tee shot where no one else could to two-putt for par. From there, his confidence grew.
"I kind of knew," Cummins said, "that everyone else was shooting what I was shooting or worse."
Playing alongside the leader, Gantz knew he wasn't keeping pace. He found himself struggling on two par-5 holes, No. 3 and No. 12, and hit his second shot out of bounds on each one. But his ability to recover both times gave him something positive to build on, and he birdied Nos. 14 and 15 to get himself back in the hunt for second place.
"It's really good to make bogey (on the par-5's) after you hit it out of bounds," Gantz said, "so I was happy with the way I played after that."
Grove, in the group ahead of Cummins and Gantz, didn't know where he stood as the round progressed, but he finished with a 73, the best round of the championship flight, to tie Gantz for second. An LCC regular for the past six years, the former Kansas University golf coach hoped he could go 2- or 3-under Sunday and make a run at Cummins. However, a couple of factors kept him from posting an even lower score.
"The east wind was weird. I think it took a little bit of the home-course advantage away, and the pins … there were a lot of pins (placed) where I've never seen," Grove said. "When it's your own backyard, you kind of want to see some of those familiar pins where at least you think you know what it's doing around the hole."
The tournament's top three performers all buddy around with Conrad Roberts, who had won six of the last seven LAGA titles and didn't play in 2011, the one year he didn't win between 2006 and 2012.
Gantz said finishing ahead of the defending champ, who finished eighth at 159, would allow the friends to give him a hard time.
"We were really wanting to knock him off," he said, with a smile. "That's kind of been our goal."
But Grove said nobody wanted Roberts to struggle, because he and the other contenders were all likable.
"It's not like you're looking at that leaderboard and thinking, 'God, I hope he makes double or triple on the next hole,'" Grove said.
Other flights
KU golfer Meghan Potee (143) won the six-player women's field easily. Her 72 Sunday put her 25 strokes ahead of runner-up Kelli Loudabarger.
In the men's first flight, Shannon Ross and Darrell Frank tied for first place at 164.
Van Reichert (153) beat Cal Froberg by 10 strokes to take the senior championship. In the senior first flight, Mike Grammer's 173 beat Carl Ricketts by one stroke.
Chris Davis (160) shot 81 to beat out his only competitor, Galen Smith, by three strokes in the super senior championship. Dennis Novacek (176) shot 90 at LCC to win the super senior first flight and finish four strokes ahead of runner-up David Lerner.
Golfer, round 1-round 2 — Total
Women (gold tees)
Meghan Potee, 71-72—143, 2. Kelli Loudabarger, 77-91—168; 3. Jennifer Stammeyer, 80-90—170; 4. Catherine Shenoy, 92-96—188; 5. Anna Wright, 92-98—190; 6. Karen Campbell, 103-107—210.
Men
Championship flight (black tees)
Tyler Cummins, 67-74—141; tie-2. William Gantz, 73-76—149; tie-2. Kit Grove, 76-73—149; 4. Ryley Haas, 76-75—151; tie-5. Michael Rack, 75-77—152; tie-5. Steve Randall, 70-82—152; 7. Greg Sharp, 77-79—156; 8. Conrad Roberts, 80-79—159; 9. Spencer Scott, 81-82—163; 10. Seth McCauley, 81-83—164; tie-11. Mason Dick, 76-89—165; tie-11. John Catlin, 84-81—165; tie-11. Matt Grammer, 84-81—165; 14. John Tacha, 84-86—170; 15. Chuck Junge, 89-84—173; 16. Brett Van Blaricum, 88-91—179.
First flight (bronze tees)
Tie-1. Shannon Ross, 85-79—164; tie-1. Darrell Frank, 77-87—164; 3. Jack Flynn, 85-81—166; tie-4. Jack Junge, 86-89—168; tie-4. Kenton Riley, 87-81—168; tie-4. Mike Whaley, 86-82—168; 7. Hunter Dedloff, 81-89—170; 8. Kenneth Farrar, 84-88—172; 9. Terry Campbell, 84-94—178; 10. Bill Wagner, 92-89—181; 11. Christopher Hanna, 89-94—183; 12. Maurice Monteau, 87-97—184; 13. Mike Martin, 94-91—185; 14. Garry Fister, 95-97—192.
Second flight (silver tees)
Tom Keegan, 81-95—176; 2. Chad Scarlett, 101-101—202; 3. Michael Farve, 96-111—207; 4. Caleb Palmer, 116-105—221; 5. Tony Ware, 130-103—233.
Senior championship flight (bronze tees)
Van Reichert, 75-78—153; 2. Cal Froberg, 82-81—163; 3. Mike Beaton, 80-87—167; 4. Jim Stansell, 81-87—168; 5. Greg Wyatt, 82-87—169; 6. Brad Mullenix, 85-89—174; 7. David Davison, 86-92—178.
Senior first flight (silver tees)
Mike Grammer, 84-89—173; 2. Carl Ricketts, 78-96—174; tie-3. Rick Drake, 90-96—186; tie-3. Ronald Hutchens, 91-95—186; 5. Eric Vernberg, 89-100—189.
Super senior championship flight (bronze tees)
Chris Davis, 79-81—160; 2. Galen Smith, 78-85—163.
Super senior first flight (silver tees)
Dennis Novacek, 86-90—176; 2. David Lerner, 85-95—180; 3. Norm Slade, 80-101—181; tie-4. Bob McTernan, 86-96—182; tie-4. Mike Hertling, 80-102—182; 6. Bob Trepinski, 89-100—189; 7. Dave Greenamyre, 90-101—191; 8. Kevin O'Crowley, 93-104—197.
Copyright 2018 The Lawrence Journal-World. All rights reserved. This material may not be published, broadcast, rewritten or redistributed. We strive to uphold our values for every story published.