Tyler Cummins had completed his round Saturday, firing a 67 at Alvamar public, giving him a three-stroke lead halfway into the city tournament, but his day wasn't done.
Photo Gallery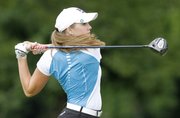 City golf tournament
The city golf tournament kicked off Saturday, July 13, 2013 at Alvamar Golf Course. The final round will be played Sunday at the Lawrence Country Club course.
Cummins, director of the junior program for the Kansas Golf Association, saw of one his juniors with a bit of a hangdog look and knew it was time to pick him up.
"Don't get down on yourself," Cummins told Jack Junge, 14. "You're young. I have a little better course management now than I did when I was your age."
The fact that Junge was feeling down is proof that it's all relative. A recent West Middle School graduate bound for Free State, Junge shot an 86, including a 40 on the back side after a four-putt on No. 18. Not many pre-high school golfers who weigh 115 pounds would be disappointed with those numbers.
Having the courage to play in a tournament packed with grown men in itself was impressive. His father, Chuck Junge, urged him to do it and Cummins thought that was a great idea.
"I kind of needed some practice in tournaments like this and a lot of practice playing with older people to improve my game," Jack said. "I liked it. I didn't do too well today, but I played with people who made it fun."
He said he learned the game from his father and took only one lesson, from Lawrence Country Club teaching pro Kristen Samp.
"I had terrible shanks and she told me that I wasn't swinging hard enough," Jack Junge said. "It was that simple to fix. I learned everything else from my dad. He was very, very patient. I've played for 10-plus years and he waited for 10 years to finally finish teaching me."
Cummins said he thought Jack Junge's decision to compete against more experienced competition was a wise one.
"Any time you're playing against guys who have been around the block, so to speak, it's a good thing," Cummins said. "I grew up playing with my dad and it was the best thing for me. It built my concentration because they would always talk when I was swinging."
Chuck Junge, who shot an atypical 89 in the championship flight, laughed at that image and said: "I haven't resorted to that yet, but it's coming."
The Junges move to their home course for today's final round and are quite familiar with the big breaks and slick speeds of the LCC greens. Jack Junge said his low round there is a 76. Jack Flynn, Jack Junge's favorite playing partner and future Free State teammate, also has broken 80 at LCC, his home course. Flynn shot an 85 Saturday and Firebirds senior Hunter Dedloff carded an 81.
Copyright 2018 The Lawrence Journal-World. All rights reserved. This material may not be published, broadcast, rewritten or redistributed. We strive to uphold our values for every story published.