Saturday morning began with a prayer circle to establish positive energy. Then, at 10 a.m., everyone took their places and waited for customers to arrive.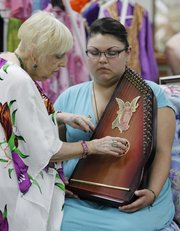 The booth in the northwest corner of the building belonged to Carol Brown and her business, Body Therapeutics.
Brown, who said she trained for 12 years in practices including acupuncture, reflexology, hypnosis and massage, is the director of Lawrence's annual Metaphysical Fair, held this weekend in building 21 of the Douglas County Fairgrounds, 2110 Harper St.

"Meta means 'beyond,'" Brown said. "This is beyond the physical."
Metaphysical Fair
When: Sunday
from 11 a.m. to 6 p.m.
Where: Building 21, Douglas County Fairgrounds, 2110 Harper St.
Cost: Admission is $5 and free for children under 12
For the past four summers, people have attended the fair to visit a psychic or healer, buy candles, herbs, oils, minerals and artwork and see presentations on topics such as astrology and interspecies communication.
Fifty-eight vendors representing 12 states are at this year's fair, which continues Sunday.
After directing the Spirit-Mind-Body Fair in Topeka one year, Brown decided to start her own metaphysical gathering in Lawrence. She invited vendors she had met throughout her travels across the Midwest, and now rotates them each year.
"Some places you go, there are always the same people," Brown said. "But I want some new blood; you have to have a little bit of that."
After a disappointing event the first year, Brown said, the fair gained momentum. There was enough interest generated that Brown plans to host two fairs next year, one in April and the other in September.
"What started this? It was a dream, a vision," Brown said. "And now, the sky is the limit, as far as I'm concerned."
Cyndie Lepori drove 12 hours from Stringer, Miss., to perform readings and animal communication and advertise her new book at this weekend's fair. She said she usually sticks to events in Mississippi and the Florida panhandle, but keeps Lawrence on her schedule each year.
"People here are fabulous," Lepori said. "They're open, they're honest, they're loving and they're so hungry for information. There's a warmth, and it's something I don't want to miss."
As she stood at her booth Saturday, people who receive readings from her at previous fairs approached Lepori, ready for another session.
Brown said she hopes those people, and everyone who attends the Metaphysical Fair, receive some type of consolation.
"People find answers, and something sparks within," she said. "It's empowering. That's what I want for everyone, to realize they're in charge, more than they may know."
Copyright 2018 The Lawrence Journal-World. All rights reserved. This material may not be published, broadcast, rewritten or redistributed. We strive to uphold our values for every story published.