Lawrence crime, fire, courts coverage
Have a tip?
Contact Journal-World reporter Caitlin Doornbos: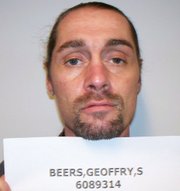 A 38-year-old Lawrence man, already facing multiple criminal prosecutions in Douglas County, was indicted today on a federal gun charge.
A grand jury in Kansas City, Kan., has charged Geoffry S. Beers with illegally possessing a firearm as a convicted felon. Beers also faces numerous theft and drug charges in Douglas County.
The indictment alleges that Beers possessed a .380-caliber Ruger pistol in October. Beers is a convicted felon with a criminal record reaching back to the late 1990s, including convictions in Douglas County for robbery and drug offenses involving cocaine, marijuana and methamphetamine, and a Sedgwick County conviction for escape from custody.
Meanwhile, Douglas County prosecutors have charged Beers with many offenses this year, beginning with a January incident in which Beers and his brother were arrested on suspicion of abandoning a still-moving stolen truck and leaving the scene of an accident outside Royal Crest Lanes, 933 Iowa St.
Since then, Beers has been charged with other drug offenses, as well as theft, making false information and burglary.
In June in Douglas County District Court, Beers was visibly surprised to find himself charged with aggravated burglary in connection with an alleged shoplifting attempt at a Lawrence grocery store. Douglas County prosecutors said they used the law creatively to charge Beers with the more severe felony, noting that he had been arrested and charged many times for misdemeanor theft.
Because Beers had been banned from the store, entering it with the intent to steal while others were inside technically met the state statute for aggravated burglary, Douglas County District Attorney Charles Branson said. That elevated a misdemeanor — usually punished by a citation — to a felony that could bring up to 17 months in prison.
"We're using the system, too," Branson said.
Now, charged in federal court, Beers could face up to 10 years in prison if convicted of the gun charge. He remained in Douglas County Jail today, with bond set at $20,000.
Copyright 2018 The Lawrence Journal-World. All rights reserved. This material may not be published, broadcast, rewritten or redistributed. We strive to uphold our values for every story published.