There's a solitary tree behind the No. 1 green at the Twin Oaks Golf Course just east of Lawrence.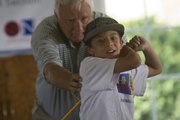 Golfer Cooper Cottrell is making an unusual boast about it. "I've hit that tree," he tells me.
Well, Cooper, I would offer you membership in a special club for duffers who have planted a golf ball into the trunk of a tree, but the seats seem to be a bit full at the moment.
But I guess you have to understand that Cooper isn't your ordinary golfer. He's part of a group of about 20 fourth and fifth grade students of the Lawrence Boys & Girls Club who come to the course once a week to learn the basics of the game.
They play the game with special clubs, special balls, special tees, but most importantly, with a special attitude that isn't seen in abundance either in fairways or classrooms.
"I've always been enthusiastic," says Jeff Burey, the 63-year old proprietor of Twin Oaks Golf and the lead teacher of the program. "And I think enthusiasm is contagious. Golf has been a vehicle for me to vent that enthusiasm, and I hope that's what these kids take away from it."
•••
I've certainly never seen a golf pro so enthusiastic about golfers trying to hit his pro shop's water cooler with a golf ball. But Burey is adjusting the kids' stances and their grips and telling them to aim for the water cooler on the far wall of the pro shop.
This really is a different type of golf. Although we're learning the basics, we're learning it through a specific program called SNAG — an acronym for Starting New at Golf.
Burey starts out by telling the kids that there are only four types of shots in SNAG golf: A roll, which is a putt; a pitch; a chip; and a launch. A launch is the name used for a drive, and instead of hitting a ball off a tee, you hit it off a "launch pad." That NASA-like terminology sounds about right for my golf game. No, I don't send many golf balls into orbit. But when I hit a drive, about halfway through its flight, the phrase "Houston, we have a problem," often comes to mind.
Eventually, we get outside on the golf course, located at Kansas Highway 10 and County Route 1057. Kids stand in the center of a "hoop clock," a hula-hoop like device that is numbered and color-coded to help kids with the proper golf stance. Instructions focus a lot on making a Y-shape with your arms and club, "bowing to the ball," making a tick-tock rhythm with your putter stroke and standing on your tippy-toes to finish your swing nice and high.
Kids break off into groups, but Burey, who has been a golf pro at locations ranging from the famed Pinehurst Country Club to Prairie Dunes in Hutchinson, has each kid take center stage and take swings in front of all the others.
"It helps build composure," he says.
And he also spends a fair amount of time talking to them about parts of the game that have nothing to do with a swing, a ball or a cup.
"You encourage your fellow competitor in this game," Burey says. "You hope that you do better — not that your competitor does poorly."
The kids take that to heart. Several said cheering on and helping their friends is their favorite part of the outing, even if they haven't quite mastered the etiquette of doing so. One young lady, during the middle of her friend's backswing, yells, "Remember your tippy toes."
"Yeah, the quiet part of the game, we definitely haven't mastered that yet," says Lucas Linder, one of the Boys & Girls Club staff members.
•••
I'm back to talking with Mr. Muscles, Cooper, who is still pleased that he can hit that tree that is probably a good 40 yards away. Come to think of it, maybe I would brag about that too. But I ask him what else he likes about this sport, and he surprises me with his answer.
"You know, if you can't find a job or something someday, you can remember back to this and remember that you are really good at golf," Cooper says.
I ponder that while Burey tells me that he does make a point to try to relate golf to a bigger picture.
"This game teaches you management," Burey says. "How you manage your golf game can tell you a lot about how you manage your life."
I'm not quite sure what to make of that, other than perhaps I should have been a lumberjack, because I spend most of my golf games in the trees.
But then I go up to one of the young ladies, 11-year old Emili Lozano, in the class to get her perspective. I ask her whether she has ever hit that tree. She looks at me like I've got a golf ball stuck up my nose, because she tells me you're not supposed to hit the tree.
"But," she quickly adds, "I bet I could."
And that's when it hits me that this really is a different game. In this version of golf, putting a little white ball in a small hole isn't the real joy of the game. It is knowing that you can do it — and lots of other things too.
I'm going to remember all this the next time I'm on the golf course. I'm going to remember to make the Y with my arms, to bow to the ball, the tick-tock of my putter swing, and, yes, my tippy toes. Most of all, though, I'm going to remember I can hit that tree.
Trust me, I really can.
— Each Sunday, Lawhorn's Lawrence focuses on the people, places or past of Lawrence and the surrounding area. If you have a story idea, send it to Chad at clawhorn@ljworld.com.
Copyright 2018 The Lawrence Journal-World. All rights reserved. This material may not be published, broadcast, rewritten or redistributed. We strive to uphold our values for every story published.