Rivalries don't always have to be combative.
The coaches of the city's two Class 6A boys basketball programs, Mike Lewis of Lawrence High and Chuck Law of Free State, worked together this year to organize a summer league for middle school players.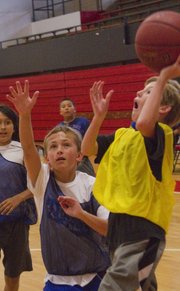 The two met in the spring to talk about their upcoming summer basketball schedules and kicked around the idea of starting a high school summer league for their programs and other nearby schools. When they couldn't get that off the ground, Lewis pitched a middle school league for sixth- through eighth-graders in Lawrence.
"We had this in our back pocket for a while," the LHS coach said, "and decided to go for it."
The idea was to provide middle school-age boys with more chances to play in a five-on-five setting, in an environment a little less driven by wins or losses.
Said Law: "The kids were looking for an opportunity to just play."
The high school coaches rotated hosting duties for five straight weeks, with the approximately 90 league players getting two games each Thursday night at either LHS or FSHS, through the end of June. To make things more interesting, Law and Lewis met every Tuesday morning prior to league night to assign players to a team. That meant different teammates for everyone each week and assured no team would be stacked or have groups of familiar players.
"We really tried," Lewis said, "to get away from people walking in with their own all-star group of boys."
Team lineups got posted online each week so the players knew what to expect.
"They loved it," Lewis said. "They came in and were excited to play and did a lot of managing on their own to get their teams organized and warmed up."
The setup translated into a lot of competitive games, which Lewis said were a reflection of the boys playing hard and not getting too caught up in how many individual points they were scoring. It gave the league a nice vibe in its maiden voyage.
The middle schoolers had some guidance from current and former city players, too. Each week, Lewis and Law recruited Lions and Firebirds to assist with the league or help coach a team. Free State's Cole Moreano and Weston Hack chipped in, as did Lawrence's Anthony Bonner, Justin Roberts, Ben Rajewski and even freshman Jackson Mallory. So did recent alums Wilson Hack of FSHS and Austin Abbott and Jake Mosiman of LHS.
No one, Law pointed out, showed more dedication to the cause than 2009 Lawrence grad Robbie Wright. He played for the Lions' 6A state runner-up team in 2008 and is studying to be a teacher and coach. Wright coached every Thursday night, and Law and Lewis agreed he helped make the new league a success.
The two men in charge even made it through the summer league without arguing about the future high school affiliations of the players.
Said Lewis, with a chuckle: "We got along just fine."
Copyright 2018 The Lawrence Journal-World. All rights reserved. This material may not be published, broadcast, rewritten or redistributed. We strive to uphold our values for every story published.