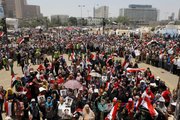 Amid massive riots in Egypt and the second forcible ouster of a president there in less than two years, Kansas University graduate instructor Marwa Ghazali is having trouble researching her doctoral thesis.
Ghazali flew to Egypt last month to spend her summer studying a subculture living in Cairo graveyards for her Ph.D. in anthropology, but her efforts were thwarted this past Sunday— exactly one year to the day since Egyptian President Mohamed Morsi took office — when thousands of protesters took to the streets demanding the president's resignation. After days of rioting, Morsi was removed from office by the military Wednesday night, and Adly Mansour, head of Egypt's Constitutional Court, was sworn in as interim president.
Given all the tumult surrounding her, Ghazali—who was born in Kansas but whose family is Egyptian—has put her research on the back burner to witness the revolution's developments unfold.
The protests are reminiscent of the "Arab Spring" of January 2011, when the world watched as Egyptians gathered in Tahrir Square — Arabic for "Liberation Square" — to ultimately oust then-President Hosni Mubarak. Eighteen months later, despite a new constitution and the country's first democratic election, the protests returned.
The upheaval in Egypt is touching Ghazali and other KU students and faculty with Egyptian ties. Some, like Ghazali, have found themselves caught in the middle of the uprisings while visiting Egypt this summer; others are watching their home country with concern from a distance.
"Egypt is still in the middle of its revolution to establish a democratic state and if the people here have shown anything it is that they have agency," said KU professor of Religious Studies Jacquelene Brinton, who also has been in Egypt during the past week's protests. "They take to the streets to protest when they believe their country is headed in the wrong direction."
Diverse protesters, common complaints
Ghazali says while anti-Morsi protesters are rioting for a common cause, they are diverse in nature.
"There are three major groups in the protests, all with a different vision of democracy" Ghazali said, "Some never liked Morsi to begin with, while others voted for Morsi, but have not seen improvements in their lives since he came to power. ... The other group, known as 'secular forces,' are opposed to the Morsi's Islamist party."
Rather than going to opposition protests in Tahrir, Ghazali says she has been getting to know pro-Morsi Egyptians at protests at Rab'a Al-Adawiyya, where the anti-revolution forces are camped out. "It's definitely given me a more balanced perspective," Ghazali said. "You rarely hear their stories in the news."
Like the United States, Egypt holds a presidential election every four years. Morsi was the 2012 presidential candidate for the Freedom and Justice Party, an Islamist political party with ties to the country's largest political group, the Muslim Brotherhood. He won Egypt's first democratic election in the wake of the 2011 revolution with 51.7 percent of the vote.
Many pro-Morsi protesters support of Morsi's Islamist politics, but Ghazali says there are others who did not vote for Morsi and are not Islamist supporters, but understand the danger of overthrowing another president.
"I talked to one woman (at the counter protests) I noticed was not wearing a scarf," Ghazali said. "Though she was not a Muslim and did not vote for Morsi, she supported him because if this is supposed to be a democratic process, Morsi should have three more years until the next election."
Though Morsi was elected democratically, many Egyptians, such as KU student Marwan Ahmed, have distaste for the way Morsi's administration has conducted itself over its year in leadership. While Ahmed has not been in Egypt among the protesters, he says the second Egypt revolution in just over two years was necessary.
"I would like to think of the current events as a continuation of the January 25 (2011) revolution," Ahmed said in an interview from Dubai, where he's spending summer break. "They had to be overthrown as they destroyed the image of Islam, and the president is nowhere near qualified to control a whole country."
Frustration boils over
After a year without witnessing change in the impoverished conditions of Egypt, Ghazali says anti-Morsi protesters' frustration has boiled over.
Ghazali says Egyptians view the president as the figurehead of the country and when things do not go well, he is the one held accountable. For example, Ghazali was in a taxicab when she saw a long line of drivers backed up and pushing their cars to a gas station.
"People were cursing Morsi for the lack of fuel," Ghazali said. "I asked my cab driver what Morsi had done to cause the problem and he said, 'The father is expected to provide food for his family. People see Morsi as Egypt's father, and he is not providing for his people.'"
Brinton says Ghazali's story reflects a common sentiment among protesters.
"What precipitated the ousting of Morsi was the dissatisfaction of the people. Life has gotten more difficult for so many. Prices are rising, jobs and fuel are getting scarcer and security is lacking, so crime rates have risen," Brinton said. "Is all of this Morsi's fault? Probably not. But he never addressed these problems in terms of how he hoped to change the situation."
Ahmed, while not directly affected by the day-to-day challenges of the unkempt Cairo streets, says he is still glad to see Morsi go.
"Unfortunately, a group that uses religion in a wrong way to control Egypt has reached this far in the previous elections," Ahmed said. "They claimed that they would use religion the right way to control the country — and they attracted attention and won the elections — but after a year, it was apparent that the president himself is a hypocrite."
As the nation faces its second tumultuous transition in just over two years, Ghazali says Egyptians have not yet had an example of what it is to be a democracy.
"Some have equated the word 'democracy' with the right to overthrow a government," Ghazali said. "We should not throw a revolution every time we don't agree with a president. We cannot have a 'historic moment' every year."
Copyright 2018 The Lawrence Journal-World. All rights reserved. This material may not be published, broadcast, rewritten or redistributed. We strive to uphold our values for every story published.