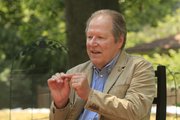 Contact KU and higher ed reporter Sara Shepherd
Have a tip or story idea?
---
More stories
Twice this year, Bill Woods was set to go receive the greatest honor of his life: an honorary doctorate from the prestigious Uppsala University in Sweden.
But twice, his health has foiled him. First there was a concussion, from a fall in his bathroom. Then there was back surgery, correcting discs and vertebrae that were putting unbearable pressure on his spine.
"It was a comedy of errors," said Woods, a professor of geography at Kansas University.

Perhaps so, but it was no coincidence. His more than four decades of work as an archaeologist had earned him the honor, but the scars from his hazardous career had left the 66-year-old Woods unable to go be recognized — at least for now.
It was last fall when Woods learned he'd been picked to receive an honorary doctorate from Uppsala, a university founded in 1477 whose past faculty include Carl Linnaeus, who created the modern system of taxonomy for living things, and Anders Celsius, the namesake of the temperature scale.
The doctorate was to recognize him for his research on terra preta, or "dark earth": a type of fertile soil he and others have found in the Amazon rainforest, the soil of which was previously thought to be infertile. Many of the researchers who worked alongside him were Swedish — perhaps, he supposes, because South America sounds like a nice place to go in the winter for people in Sweden — and he'd taught a course at Uppsala before.
Woods, who came to KU in 2005 from Southern Illinois University-Edwardsville, has long focused his research on soils. That's not because he's particularly interested in dirt, he says, but because of the stories soil can tell about the human history of an area.
He's been one of the leaders of a group of researchers who've changed scientists' ideas about the Amazon rainforest, which they've found was once home to a huge civilization of perhaps 20 million people.
"What we see now is not a reflection of what was going on 500 years ago," Woods said. "It's people who have gone through a holocaust."
The clues to that conclusion are found in the soil, he says — it shows signs of human waste and garbage, as well as a method of cultivating the earth with charcoal that could suggest possible sustainable farming practices for use today.
"His work in the Amazon is groundbreaking," said Rolfe Mandel, a KU professor of anthropology and senior scientist at the Kansas Geological Survey.
To receive his honor, Woods was to attend a lavish ceremony in January at Uppsala, where he would wear a white tuxedo with tails and receive a gold ring.
But the problem is that, Woods says, the perils of an archaeological career shown in the "Indiana Jones" movies actually aren't that far off. And a lifetime of dangerous work is catching up to him.
Woods can tick off a laundry list of injuries and diseases he's had. He's had seven concussions, many from rocks or debris falling on his head as he collected soil samples from 15-foot-deep holes. He's had malaria, hepatitis and typhoid. He's broken his hand and several ribs.
Then there was the time when his Achilles tendon snapped while he was crossing a six-lane highway in Panama to get some antibiotics for a case of pneumonia. He had to drag his leg the rest of the way.
"It was like 'Frogger,' " Woods said.
And he's put a lot of strain on his back over the years, first while playing football in high school and college and then while hauling equipment through jungles and down holes. Finally, in March, he had to have surgery to remove parts of three discs and two vertebrae. That meant he'd have to miss his already-rescheduled trip to Sweden, set for May.
But Woods isn't down on himself. He's better off than colleagues of his who've been shot or bitten by snakes in the middle of the jungle.
And, he says, the work has been worth it.
"It's finding new things," Woods said. "The camaraderie. And, I guess, the sense of adventure."
Woods is thinking of retirement soon. He did receive his actual honorary doctorate, a two-foot-long certificate written in Latin, in the mail. And he's set to receive another award in October, a lifetime-achievement honor from the Geological Society of America.
But he's also waiting to find out if his trip to Sweden can be rescheduled. If it can, he's determined to go.
"I need to get my gold ring," Woods said, "and to do that I have to go there."
Copyright 2018 The Lawrence Journal-World. All rights reserved. This material may not be published, broadcast, rewritten or redistributed. We strive to uphold our values for every story published.