From the Lawrence Daily Journal-World for July 3, 1973: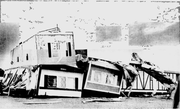 For the second time in a little more than two weeks, Lawrence was subjected to a storm that raked the area with strong winds of nearly 80 miles an hour and large amounts of rain. "A few sparklers and Roman candles will be hard pressed to match the fireworks Kansas weather shot off," commented a Journal-World writer today. No injuries were reported from the storm, but among the damages listed were at least four mobile homes at Interstate Mobile Sales on North Second Street (where one unit flipped on top of another), a house under construction at 19th and Kasold (flattened), Audio House at 307 E. Ninth (roof partially torn off), and Highway K-10, where crews worked nearly 2 1/2 hours to remove a toppled tree about three miles east of Lawrence. The Lawrence Municipal Airport was reporting about $1,500 damage to three airplanes. As had been the case in the June storm, trees and utilities were among the heaviest-hit victims this time. The storm, which had struck at about 10 p.m., had resulted in an estimated 1,500 to 2,000 households suffering blackouts.
In the wake of the storm, one item of great concern to local residents was that not one of the 12 new emergency sirens in Lawrence had functioned because the storm had knocked out the transmitter, which was located at Kansas University, seconds before Civil Defense had attempted to sound them. County commissioners this week were to discuss the possibility of installing an auxiliary transmitter for the system. County civil defense director H. H. "Chuck" Belote said today that Lawrence had been issued a tornado warning by the National Weather Service in Topeka and that "several" tornadoes had been sighted north and west of Lawrence. He said that it was "not the first time a transmitter has been knocked out" and that the installation of an auxiliary transmitter, which would cost an estimated $1,500, would "make the system dependable, but not foolproof." During the June 16 storm, three of the sirens had failed to function because trees had fallen on the power lines.
Copyright 2018 The Lawrence Journal-World. All rights reserved. This material may not be published, broadcast, rewritten or redistributed. We strive to uphold our values for every story published.