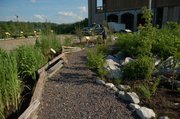 On Feb. 9, the Missouri Prairie Foundation/Grow Native! is presenting "Native Landscaping and Rain Gardens" at the Douglas County 4-H Fairgrounds Building No. 1, 2110 Harper St.

The workshop is open to anyone — those interested in attending can pre-register by downloading the form at grownative.org or by picking one up at K-State Research and Extension-Douglas County, also located at the Fairgrounds. The Feb. 1 registration deadline has been waived, and walk-ins are welcome.
Rain gardens have gained popularity the last several years with increased awareness of the need for management of stormwater.

As land is paved over and built upon, the area available for rain to soak into the ground is decreased. In cities especially, that can lead to flooding — as all of the water in a heavy rainfall travels via impervious surfaces — and be a danger to residents. Some cities, including Lawrence, have underground systems to channel stormwater back to the river, but they are often under capacity. Flooding near the intersection of 23rd Street and Naismith Drive that occurs sometimes after heavy rains is evidence of this here in Lawrence.
One of the presenters at the workshop, Elliott Duemler, says, "It is every homeowner's opportunity to manage their own stormwater. They can add something that will have a good impact on the environment that is also aesthetically pleasing." Duemler is the nursery manager for Applied Ecological Services Inc. in its Baldwin City office.
Duemler is presenting on native plants to help attendees make better choices about what to plant in a rain garden. Plants that are native to our region, when sited correctly, are often better adapted to the environment and less likely to suffer from pest problems than plants from other regions. At Applied Ecological Services, he collects seeds, propagates and cares for regionally native plants that are used in the company's work. He gained experience with native plants while working as a Prairie Restoration Intern for the Missouri Botanical Gardens.
David Dods, senior environmental engineer with URS Corporation (Kansas City office), is teaming up with Duemler to give a "how to" of rain garden design and construction. Dods has 25 years of experience in ecological engineering and environmental restoration and is co-author of "The Blue Thumb Guide to Raingardens."
Duemler says the workshop offers attendees an in-depth look at how to design and construct a rain garden, and how to select plant material.
"People will walk away with a better idea of how to site a rain garden, things to avoid as they are laying them out, and what kind of plants will work best," he says.
The workshop is $15 for members of the Missouri Prairie Foundation/Grow Native and $18 for nonmembers. It begins at 9 a.m. Feb. 9 and concludes around 11:30 a.m.
A workshop for landscape professionals precedes this one from 9 a.m. to 4 p.m. Feb. 8 at the 4-H Fairgrounds Building No. 1. The professional workshop is designed for landscape architects, designers and others who work in the horticulture industry. It will cover pollinators, green roof systems, soil management and plant selection. More information about this workshop is also available at grownative.org or by stopping by K-State Research and Extension-Douglas County.
Although the Missouri Prairie Foundation/Grow Native! is based out of our neighbor state, the plants the workshop will be talking about are unaware of state lines or sports rivalries. Rain garden design is also applicable to both sides of the state line.
Copyright 2018 The Lawrence Journal-World. All rights reserved. This material may not be published, broadcast, rewritten or redistributed. We strive to uphold our values for every story published.