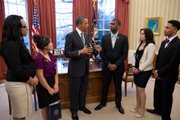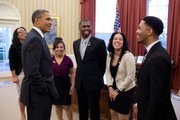 Trei Dudley had seen Barack Obama on TV. But when the President's door swung open Monday, it was an altogether different experience.
"For him to, like, open the door to the Oval Office and be standing right in front of you was absolutely amazing," said Dudley, a Lawrence native and reigning Boys and Girls Club of America National Youth of the Year.
Dudley, 18, had to miss a few days of classes at the University of Arkansas this week, but she had a good excuse. She and the other four finalists for the Youth of the Year title were in Washington, D.C., where Monday afternoon they met with the president in the Oval Office.
Dudley spoke with the Journal-World over the phone Tuesday just minutes after her second major activity on the trip: delivering a national "State of the Youth Address," streamed on the Boys and Girls Club website, from the National Press Club. She won the Youth of the Year title after being nominated by the Boys and Girls Club of Lawrence and competing through an arduous course of essays, speeches and other activities.
After Obama opened the Oval Office door and welcomed the group in, he had only about 10 minutes free in his busy schedule. But you couldn't tell it from his demeanor, Dudley said.
"He was really humble and really down-to-earth, really easy to talk to," Dudley said.
He took questions from the five teens, recalling that when he was growing up he dreamed of becoming a basketball player or a lawyer, but not necessarily the president.
"I asked him what the hardest part of his job was, and he said if it was something that wasn't hard, it would never make it to his desk," Dudley said.
When she stepped into the Oval Office, her attention was drawn to the ceiling, she said: white, with the presidential seal at the top center.
"It was so weird," Dudley said.
Traveling to all corners of the country is no longer new to Dudley, though, and neither is meeting famous faces.
Since being named National Youth of the Year in September, she's traveled to New York, Atlanta and Detroit for various events and met Shaquille O'Neal, Denzel Washington and Michael Phelps. Monday's meeting with the president was originally scheduled for September, but he was too busy as the election approached. Along with the honor, Dudley also received $61,000 in scholarships and a new car.
She's getting more and more comfortable with appearing in public, she said, even if she still worries that she's answering interview questions correctly and looking OK on camera.
Tuesday's State of the Youth Address was a new experience for her, though. She was reviewing revisions to her script up until a few hours before, she said.
"You roll with the flow," Dudley said.
Before the address, Boys and Girls Clubs president and CEO Jim Clark said Dudley "speaks for the 4 million people our clubs serve." Dudley's early life was marked by domestic violence, he said, and she was raised by a single mother along with three siblings.
Despite her frequent travel, the Free State High grad earned a GPA of better than 3.5 during her first semester studying business management at Arkansas, he said.
During her brief speech, she talked about the Boys and Girls Clubs' efforts to form a White House National Teen Advisory Committee. She said youths today are concerned about job and educational opportunities when they finish high school, violence in their communities and the dangers of risky behaviors such as alcohol, drugs and sexual activities.
She talked about those issues with teens she spoke with in Lawrence, Topeka and Manhattan when she was home over winter break, she said.
Dudley first came to the Boys and Girls Club of Lawrence when she was in kindergarten, and when she was older she pitched in to help younger kids. She volunteered at several other community organizations, as well.
So when Obama told the group visiting Monday that they should emphasize giving back to their communities, she certainly listened—but it was not a new idea.
It's the people back in her community — her mom, her family and the folks at the Boys and Girls Club — who put her where she is today, she says.
"All credit definitely goes back to the good old home of Lawrence, Kan.," Dudley said.
Copyright 2018 The Lawrence Journal-World. All rights reserved. This material may not be published, broadcast, rewritten or redistributed. We strive to uphold our values for every story published.