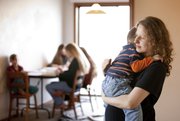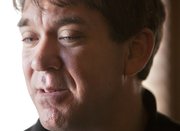 During the Ballard Center's annual Adopt-a-Family Program, several of Don Quesenberry's children brought in their own piggy banks to help other needy families.
"The moment was so moving, it brought us to tears," said Kyle Roggenkamp, program director at the Ballard Center. "They needed that money."
Now the Ballard Center is trying to return the favor.
Quesenberry, 40, of Lawrence and his wife, Rachel, 37, and their seven children were left scrambling when Don lost his managerial job in Lawrence in September. The family had moved to the area from Colorado two years ago for the job, which was now gone.
After a few months of unemployment, Don secured a flooring job in Lincoln City, Ore., through a former employer. The family put down a deposit on a rental home in Oregon, and planned to pack everyone up and make the 1,900-mile trek in a 15-passenger van.
The van broke down, delaying their plans. They bought another van, and, on their last dime, left again for Oregon earlier this month.
The replacement van barely made it past Topeka when the engine rattled and started smoking. They pulled over to find the engine shot and no way to get back to Lawrence.
"We were kind of crushed," Don said. "It was kind of like the dominoes started falling."
Don and his family, out of options and money, called the Ballard Center for help.
The nonprofit sent a large van to pick up the family, who still had a month left on their rental home. Now the agency is raising funds to help the family — on the brink of homelessness — get to Oregon.
The Ballard Center sees hard-luck stories every day, but the struggles of the Quesenberry family struck a nerve, Roggenkamp said.
"They're just amazing people," he said.
The family has until Feb. 1 in their current two-bedroom rental home, but from there "things could get ugly," Don said.
The Ballard Center will be collecting funds for the family to help them get back on the road and into a more stable living situation in Oregon.
Don said the experience has been a hit to his pride, and it's been tough asking for help, especially after seeing firsthand the struggles of other families at the Ballard Center.
The family, which includes six daughters and a son, ages 2 to 18, has banded together, Don said, and the experience has given them a better appreciation for others who face poverty.
"Things can get bad fast," Don said.
Those interested in helping can call Roggenkamp at 842-0440.
Copyright 2018 The Lawrence Journal-World. All rights reserved. This material may not be published, broadcast, rewritten or redistributed. We strive to uphold our values for every story published.