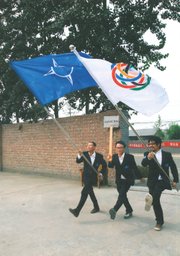 Conceptually, they hail from the fictitious city of Xijing, an imagined political entity in East Asia. Collectively, they're known for international exhibitions drawing heavily on absurdity, satire and humor.
This week, the Xijing Men will open their first North American exhibition in Kansas City, Mo., and play host to a "summit" in Lawrence.
Kansas University's Spencer Museum of Art and the H&R; Block Artspace at the Kansas City Art Institute teamed to bring the artists to the area. Tsuyoshi Ozawa of Japan, Chen Shaoxiong of China and Gimhongsok of Korea arrived Tuesday to begin a 10-day residency.
The "Xijing Art Summit" — video footage from which will be used by the artists as part of their larger body of work — is planned for 5:30-6:30 p.m. Wednesday at the Spencer Museum auditorium, 1301 Mississippi St. The artists will give a public lecture at 7 p.m. Thursday in Epperson Auditorium, Vanderslice Hall, on the Kansas City Art Institute campus, 4415 Warwick Blvd., Kansas City, Mo. The exhibition will be at the H&R; Block Artspace, 16 East 43rd St., Kansas City, Mo., and an opening reception is planned from 6-8 p.m. Friday.
The exhibition, on display through April 3, will include a survey of the Xijing Men's past work, including video, drawings and objects from the four "chapters" of work the men have completed since forming their collaboration in 2006. A fifth chapter will eventually conclude their project.
"These chapters establish the history, mythology and cultural identity of Xijing. At the same time, by attributing these qualities to a non-existent political entity, the Xijing Men poke holes in these very concepts, deflating their power," according to a preview from the Spencer Museum. "Meanwhile, mock cultural events have provided opportunities for antic-driven commentary, always referencing specific geopolitical spectacles. Notably, an Olympics spectacle hosted by the fictitious city of Xijing in 2008 (competitions included sleep marathons and cigarette-smoking relays) restored a sense of levity and play — markedly absent from the actual Olympics, which took place in Beijing at the same time — to the sports arena."
Copyright 2018 The Lawrence Journal-World. All rights reserved. This material may not be published, broadcast, rewritten or redistributed. We strive to uphold our values for every story published.